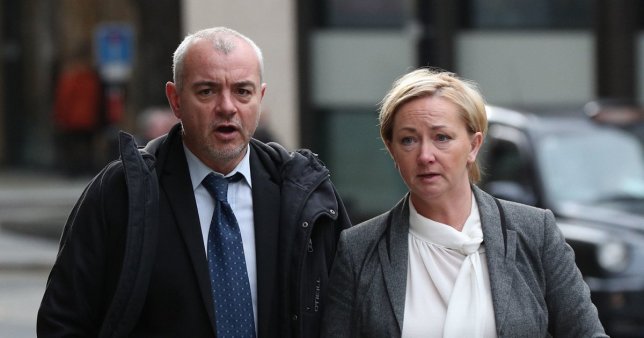 Two detectives whose laziness scuppered child abuse investigations have been jailed.
Sharon Patterson, 49, and Lee Pollard, 47, forged documents and misled Essex Police supervisors about the progress of cases, the Old Bailey heard.
The detective constables, who were having an affair at the time, had both been found guilty of misconduct in public office.
Patterson was sentenced to 18 months and Pollard was jailed for two years.
Judge Nigel Lickley QC told the pair: "You failed the victims."
He said they had committed "multiple acts of dishonesty" while others who had been wrongly blamed had had their reputations "impugned".
"You betrayed the public's faith and confidence in you," he said.
Pollard and Patterson's behaviour came to light in a performance review of the child abuse investigation unit where they worked.
During the trial, jurors were told Patterson had ditched work to get a manicure and have a four-hour lunch at a Chinese restaurant with her married lover Pollard.
He had destroyed photographs found at the home of a suspect accused of sexually abusing a boy, the court heard.
When Patterson forged a document to shut down one investigation, Pollard described her as his "deceptive partner in crime" in flirtatious emails, jurors heard.
'Cynical disdain'
The couple later moved in together and were living in Colchester.
Prosecutor Alexandra Healy QC said they appeared to be motivated by "a combination of laziness, self-preservation and a cynical disdain for complainants".
The couple denied wrongdoing between 2011 and 2014, saying administrative chaos at the unit was to blame.
Patterson was sacked last month for gross misconduct, while Pollard was dismissed in 2015 for an unrelated matter.
Patterson's lawyer Jacqueline Carey said the mother-of-three was now virtually penniless, with career prospects that were "limited to say the least".
'Let victims down'
The offences came to light following a four-year corruption investigation into the north Essex child abuse unit.
Thirty officers, some now retired, were investigated and 296 child abuse cases looked at, of which 55 were referred to the Independent Office for Police Conduct.
Pollard and Patterson were the only ones to face criminal charges, though a third officer was sacked for gross misconduct last year.
Assistant Chief Constable Andy Prophet said the force would "never lose sight of … a number of victims that we let down".
"We hope that they accept our apologies but more importantly we hope they and the public of Essex accept our reassurance that once these issues came to light, we acted immediately to tackle them."