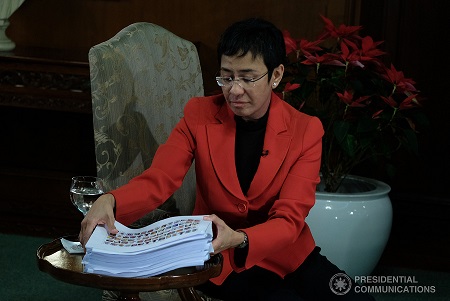 Prominent Philippine journalist Maria Ressa has been re-arrested at Manila airport, allegedly for violating laws barring foreign ownership of media.
Ms Ressa, the founder of news site Rappler, was granted bail after paying P90,000 ($1700; £1300).
It comes weeks after she was arrested over an alleged internet libel case.
Press freedom advocates say the veteran reporter is being targeted by President Rodrigo Duterte because of Rappler's critical reporting on the government.
Eleven legal cases have been filed against the outlet since January 2018.
Ms Ressa, who was named one of Time Magazine's People of the Year in 2018, spoke to reporters as she was arrested.
"Obviously this is yet another abuse of my rights. I am being treated like a criminal when my only crime is to be an independent journalist," she said.
After her previous arrest on 13 February she spent a night in jail before being released on bail.
What happened?
Ms Ressa was arrested moments after stepping off a plane from San Francisco, ABS-CBN, reported.
Before arriving, apparently aware that she might be met by police officers, she tweeted: "Landing in a short while to face my latest arrest warrant and the 7th time I will post bail."

She then posted a series of tweets following her arrest, including a photograph from inside the police car.