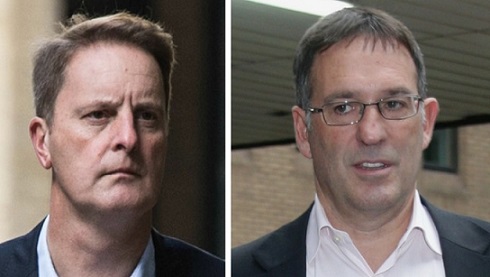 Two former Tesco directors have been acquitted of charges of fraud and false accounting after the judge dismissed their case due to lack of evidence.
Chris Bush, former UK managing director, and John Scouler, former UK food commercial director, were accused of manipulating figures that resulted in Tesco's profits being overstated.
In autumn 2014, Tesco said that profits had been overstated by about £250m.
Both Mr Bush and Mr Scouler had denied the charges.
After their acquittal, Mr Bush said: "While I am delighted that my innocence has finally been established, it is troubling that Mr Scouler and I were ever charged.
"I am now looking forward to getting home and spending Christmas with my family."
It was alleged the pair were aware that income was being wrongly included in the company's financial records to meet targets and make Tesco look financially healthier than it was.
Mr Scouler, 50, from High Wycombe and Mr Bush, 52, of St Albans each denied one count of fraud and another of false accounting. At the time they had benefits packages with Tesco of more than £1m each.
Tesco found that its profits had been overstated due to early recognition of payments from suppliers who sold their goods in its stores, as well as delays in charging costs.
The defendants had been on trial for eight weeks at Southwark Crown Court.
The acquittal came after trial judge Sir John Royce dismissed the case brought by the Serious Fraud Office (SFO), halting the trial after the prosecution presented its case.
"I concluded in certain crucial areas the prosecution case was so weak it should not be left for a jury's consideration," Judge Royce said.
The SFO tried to have the decision overturned at Court of Appeal on Wednesday, but was unsuccessful and the men were cleared by Court of Appeal judges.
Richard Sallybanks, partner at BCL Solicitors representing John Scouler, said: "We are delighted that Mr Scouler leaves court today knowing that the judge, having heard the entirety of the prosecution evidence, reached the firm conclusion that he had no case to answer.
"That decision was obviously correct yet the SFO chose to pursue an appeal which was rejected yesterday."
Ross Dixon, partner at Hickman and Rose, and solicitor for Mr Bush, said: "The trial judge heard from 30 witnesses and considered thousands of pages of written evidence; he reached the firm conclusion that there was no case for the defendants to answer.
"The Court of Appeal has now affirmed that decision and refused the SFO permission to appeal. Quite how the SFO managed to so fundamentally misunderstand the effect of its own evidence demands an answer."
The trial jury was discharged and exempted from jury service for 20 years.
Analysis
By Emma Simpson, BBC business correspondent
It's one thing for a jury to deliver not guilty verdicts in a multimillion pound fraud trial.
But for a judge to call a halt to the proceedings after hearing the prosecution's case is far more unusual.
This outcome now raises more questions than answers.
And it's the Serious Fraud Office (SFO) that is under the spotlight for its handling of this case.
Source: bbc.co.uk