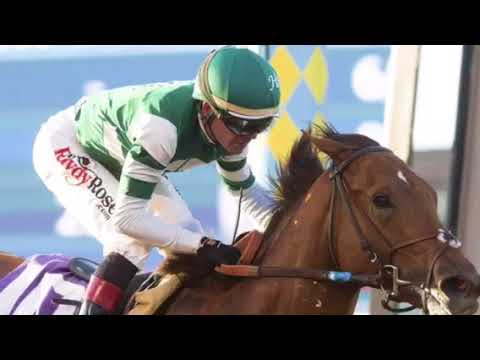 A man has been arrested for getting on a horse while drunk and nearly making it to the track at the Breeders' Cup meet in Kentucky, local media report.
Michael Wells-Rody, 24, sneaked into "a restricted area", grabbed a horse and was "in the track entrance" before being stopped, says a police report.
It added he was "under the influence of alcoholic beverages" and was "loud and disorderly" when asked to dismount.
The $6m Breeders' Cup Classic was won by Accelerate at Churchill Downs.
Enable, ridden by Frankie Dettori, won the Breeders' Cup Turf race to become the first horse to win both a Breeders' Cup fixture and the Prix de l'Arc de Triomphe.
According to the report in the Kentucky Herald Leader, Wells-Rody has been charged with alcohol intoxication in a public place and disorderly conduct, and is scheduled to appear in court on Monday.
Source: bbc.co.uk