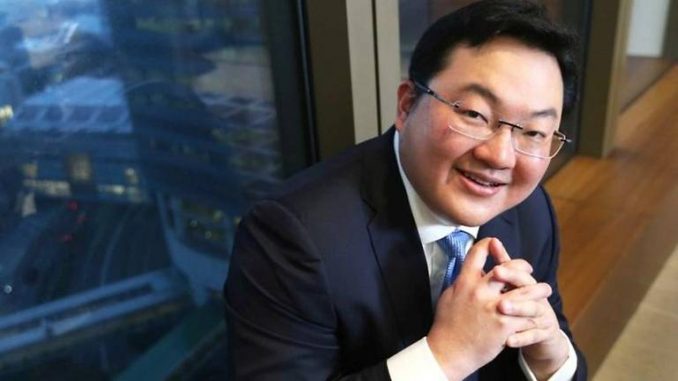 Two former Goldman Sachs bankers and Malaysian financier Jho Low have been hit with US criminal charges in connection with one of the world's biggest financial scandals.
The Department of Justice alleges the men participated in a scheme that stole billions of dollars from Malaysia's development fund, 1MDB.
One former Goldman banker pleaded guilty, the department said.
The other banker has been arrested, while Mr Low remains at large.
Mr Low, who prosecutors say had ties to government officials and acted as an informal advisor to the 1MDB fund, maintains his innocence, according to a statement issued by his legal team.
He has previously denied charges filed in Malaysia, adding that it would be "impossible" for him to receive a fair trial there.
"Mr. Low simply asks that the public keep an open mind regarding this case until all of the evidence comes to light, which he believes will vindicate him," the statement said.
Goldman, which worked to raise money for the 1MDB fund, said on Thursday that it "continues to co-operate with all authorities investigating this matter".
How did we get here?
These are the first US criminal charges to surface in the 1MDB scandal. Authorities say billions of dollars were embezzled from the state fund to buy art, property, a private jet – and even to help finance the Wolf of Wall Street film starring Leonardo DiCaprio.
The scandal has prompted investigations around the world and played a role in the election defeat earlier this year of Malaysia's former prime minister, Najib Razak, who is accused of pocketing $700m (£517m) from the fund he set up.
He has since been charged with corruption, abuse of power and criminal breach of trust in Malaysia. His wife, Rosmah Mansor, has been charged with money laundering. Both deny any wrongdoing.
US authorities have previously filed civil suits aimed at recovering luxury goods, cash and other items allegedly purchased with money from the fund.
What are the new charges?
In this case, prosecutors say former Goldman bankers Tim Leissner and Roger Ng worked with Mr Low to bribe government officials to win 1MDB business for Goldman Sachs.
Goldman had previously rejected Mr Low as a client, after compliance officials raised concerns about the source of his money.
But in this case, the bankers, along with others at Goldman, worked to conceal Mr Low's involvement, prosecutors say.
Ultimately, the bankers worked on three bond offerings in 2012 and 2013 that raised about $6.5bn for the fund and earned Goldman $600m, the indictment says.
The money was supposed to support development projects, but prosecutors say the three men "conspired to launder" more than $2.7bn through the US financial system.
They allegedly used this money to pay bribes and "for the personal benefit of themselves and their relatives".
How have the men responded?
Mr Low, who was charged earlier in Malaysia, has repeatedly declared his innocence. He has called the Malaysian charges political.
Mr Leissner, who served as Goldman's South East Asia chairman and a participating managing director, has pleaded guilty to conspiring to launder money and violate US anti-bribery laws.
Mr Leissner, who left Goldman in February 2016, has been ordered to forfeit $43.7m.
Mr Ng was a managing director at Goldman until his departure in May 2014. He was arrested in Malaysia on Thursday. The BBC has not yet been able to contact a lawyer representing him.
Source: bbc.co.uk