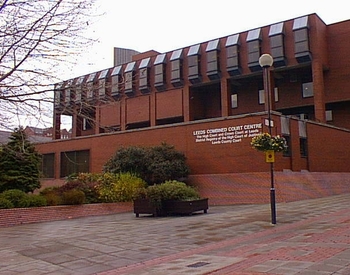 A police officer raped a woman because she was unable to pay a fine, a court has heard.
David Lomax is accused of forcing himself on the woman in 1978 after visiting her home in Seacroft, Leeds.
Jurors at Leeds Crown Court were told Mr Lomax, now 83, was charged after his DNA profile was matched in a cold case review in 2016.
Mr Lomax, of Esher Grove in Waterlooville, Hampshire, denies rape and misconduct in a public office.
The court heard Mr Lomax, who was in his 40s at the time, worked as a warrant officer with West Yorkshire Police.
Prosecutor Sophie Drake said he had gone to the woman's address two weeks before the alleged offence to collect payment but had agreed to give her extra time to find the money.
She said when he returned on 20 October the woman was again unable to pay.
'Blackmailed'
The court heard Mr Lomax had told the woman he would have to take her to the police station but then put his hand on her shoulder and said: "Well we could solve this."
Miss Drake said he then led the woman into her bedroom and raped her against the wall before leaving.
"The woman did not consent to it," she added.
"She did not want sex but she was in effect blackmailed in to it."
The court heard the woman reported it to police several days later and a DNA sample was retrieved from a towel.
Mr Lomax was arrested at the time but there was insufficient evidence to charge him.
Miss Drake said the chance of the DNA sample belonging to someone other than Mr Lomax was "one in a billion".
When he was rearrested in July last year, Mr Lomax told police that when he arrived at the address the woman had jumped out of a window and run away.
He said while he was at the property he had found a pornographic magazine, masturbated and then left.
The trial continues.
Source: bbc.co.uk