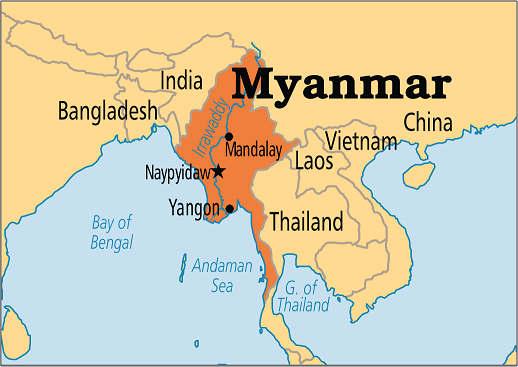 India has deported seven Rohingya Muslims to Myanmar, despite last-minute appeals that doing so put them at risk.
The men had been detained since 2012 for immigration violations. Earlier in the day, the Supreme Court refused to step in to stop their deportation.
At least 700,000 Rohingya have fled to neighbouring Bangladesh to escape violence in Myanmar in the past year.
UN officials have accused Myanmar's military of ethnic cleansing. The army says it has been tackling insurgents.
The Rohingya are one of many ethnic minorities in Myanmar, where the government sees them as illegal immigrants from neighbouring Bangladesh and denies them citizenship.
The seven men deported on Thursday had been interred in a detention centre in India's Assam state. They were handed over at the Moreh border crossing in neighbouring Manipur state.
"These are Myanmarese nationals whose identities have been confirmed by their government. The government given them travel permits," LS Changsan, a senior Assam official, told the BBC's Vineet Khare.
The UN special rapporteur on racism, Tendayi Achiume, said India risked breaching its international legal obligations by returning the men to possible harm.
"Given the ethnic identity of the men, this is a flagrant denial of their right to protection," she told AFP news agency.
These are among the first deportations of Rohingyas from India since deadly attacks on police in Myanmar's Rakhine state in August 2017 sparked a military offensive.
Officials in India say two Rohingya men were sent back in August – but this has not been confirmed by Myanmar.
Last year India announced it would deport its entire Rohingya population, thought to number about 40,000. This number includes some 18,000 Rohingya registered as refugees by the UN.
Despite the international pressure on Myanmar, India is actively pursuing a good relationship with the country's army officials.
Correspondents say India hopes to enlist their help in acting against militants in India's north-east, many of whom are based in Myanmar's jungles.
India's government also aims to grow its influence in Southeast Asia to counter China's increasing presence in the region.
Source: bbc.co.uk