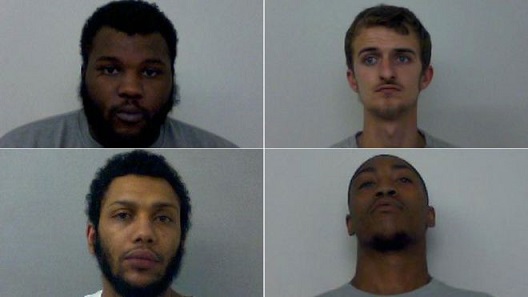 Four members of a gang that left a 27-year-old man with more than 80 injuries in a machete attack have been convicted of murder.
Christopher Lemonius died after being attacked by a gang that was also armed with golf clubs, in Blackbird Leys, Oxford, on 1 June last year.
One other man was found guilty of manslaughter, and a jury at Oxford Crown Court cleared another of murder.
Four other people were found guilty of perverting the course of justice.
During the trial, the court heard Mr Lemonius was attacked in Jourdain Road after a confrontation between two groups outside the Premier Store in Blackbird Leys at about 23:00 BST.
Mr Lemonius was chased through Blackbird Leys Park to a property in Jourdain Road.
There the gang used golf clubs, pieces of wood and machetes to attack him, the court heard.
One eyewitness said he saw the victim "hanging on to the door" as he was pulled into the garden and dragged into the alley and beaten.
The witness also said he saw a man with a machete with blood on it "from the top to halfway".
Another told the court they heard fighting, along with shouts of "let's finish him off".
The jury was told a severed finger belonging to Mr Lemonius was later found in the garden by police.
At the trial, the court heard that during the attack a car was driven at Mr Lemonius by Yousef Koudoua, but the jury found him not guilty of murder.
Mr Koudoua was in tears as it was read out and he mouthed "Thank you" to the jury, as cheers came from the public gallery.
Sentencing of the nine convicted is due to take place on 12 October.
The verdicts:
Otman Lamzini, 25, of Jourdain Road, guilty of murder
Yasine Lamzini, 20, of Jourdain Road, cleared of murder but guilty of manslaughter
Rashaun Stoute, 24, of Church Cowley Road, guilty of murder
Connor Woodward, 25, of Haldene Road, guilty of murder
Carlos Spencer, 27, of Wynbush Road, guilty of murder
Yousef Koudoua, 28, of Balfour Road, cleared of murder
Saffon Fakir, 26, from Oxford, guilty of conspiring to pervert the course of justice
Allal Lamzini, 69, of Jourdain Road, guilty of perverting the course of justice
Yamina Lamzini, 57, of Jourdain Road, guilty of perverting the course of justice
A 17-year-old who cannot be named, guilty of conspiring to pervert the course of justice
Source: bbc.co.uk