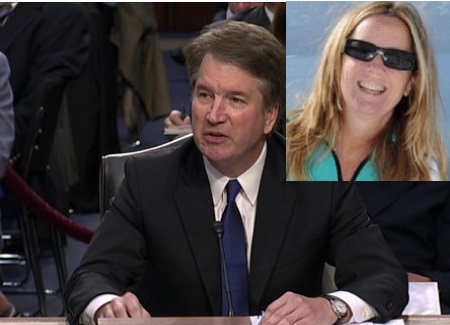 The woman who accuses US Supreme Court nominee Brett Kavanaugh of sexual assault has been given an extra day to decide whether she will testify against him at a confirmation hearing.
Allegations from a university professor, Christine Blasey Ford, emerged in the US media last week.
She gave details of an incident which she says happened at a party in 1982.
Her lawyer has accused Republicans of trying to "bully" her with "arbitrary" and "aggressive" deadlines.
President Donald Trump attacked Prof Ford's credibility on Friday, saying if the attack had been "as bad as she says", she would have reported it to the authorities sooner.
Judge Kavanaugh has repeatedly denied the allegations.
Prof Ford had agreed to testify at the Senate judiciary hearing, but set out certain conditions, including it not taking place until Thursday.
On Friday evening, Republicans on the committee set a 22:00 (02:00 GMT Saturday) deadline for the professor and her lawyers to agree to revised terms.
"Its sole purpose is to bully Dr Ford and deprive her of the ability to make a considered decision that has life-altering implications for her and her family," the professor's lawyer Debra Katz said on Friday evening, asking for another day to decide.
"She has already been forced out of her home and continues to be subjected to harassment, hate mail, and death threats."
After the deadline passed, Senator Chuck Grassley – the lead Republican on the judiciary committee – said he had granted Prof Ford "another extension" to allow her to decide if she wanted to proceed.
That extension runs until 14.30 (19.30 GMT) on Saturday, Prof Ford has been told, according to the New York Times.

How did the allegations come to light?
The allegation against Judge Kavanaugh, President Donald Trump's pick for the US top court, became public last week.
It emerged Prof Ford had detailed the alleged assault in a confidential letter to the top Democratic senator on the judiciary committee, Dianne Feinstein, in July.
As the judge neared confirmation, news about the letter leaked to US media. Ms Feinstein then confirmed she had passed it onto the FBI.
After days of continued media speculation, Prof Ford went on record in a Washington Post article as the mystery accuser, detailing the alleged assault.
She said Mr Kavanaugh tried to drunkenly remove her clothing at a party, pinned her to a bed and covered her mouth when she was 15 and he was 17.
Since then, her lawyers have been in a back-and-forth with the judicial committee, trying to agree on terms for her to testify.
She had asked for a number of preconditions, including not testifying with Mr Kavanaugh in the room and the subpoenaing of his friend, Mark Judge, who she said witnessed the alleged attempted rape.
Some Republicans, including President Trump, have accused her and Democratic politicians of deliberately trying to delay and obstruct the judge's confirmation, and urged them to push forward.
The feelings are strong on both sides – with both Prof Ford and Brett Kavanaugh and his wife both receiving threats and rallies of support over the matter.
Why is it the hearing important?
The choice of a new justice for the Supreme Court is pivotal, as it often gives the final word on highly contentious laws and its nine judges have an immense impact on US public life.
As Mr Trump's pick, Brett Kavanaugh has to first approved in the Senate before he can take his seat – but before that vote can happen, he has to be approved by the judiciary committee, where Prof Ford may testify.
The Senate is made up of 51 Republicans and 49 Democrats – so any testimony she gives on the allegations could prove pivotal.
Some have said there should not be a vote on his confirmation until Prof Ford has been heard.
What has Mr Trump said?
President Trump weighed in heavily on the allegations on social media on Friday.
In a series of tweets, he questioned why law enforcement was not called at the time of the alleged assault, in 1982.

He also reiterated his full support for Judge Kavanaugh who he described as a "fine man, with an impeccable reputation".
Mr Trump's controversial comments were criticised by Democratic politicians and some Republicans.
Republican Senator Susan Collins said she was "appalled" by Mr Trump's tweet.
"We know that allegations of sexual assault – I'm not saying that's what happened in this case – but we know that allegations of sexual assault are one of the most unreported crimes that exist," she told reporters.
Only 23% of rapes and sexual assaults are reported to the police, according to the Department of Justice's 2016 report.
On Friday, the hashtag #WhyIDidntReport trended on Twitter, with thousands sharing personal stories of sexual harassment and assault.
Patti Davis, the daughter of President Ronald Reagan, wrote in the Washington Post that she was raped 40 years ago.
"It doesn't surprise me that for more than 30 years, Christine Blasey Ford didn't talk about the assault she remembers," she wrote, adding: "It's important to understand how memory works in a traumatic event."
Source: bbc.co.uk