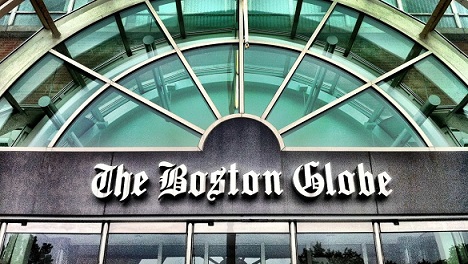 More than 300 news outlets are launching a campaign on Thursday to counter President Donald Trump's attacks and promote a free press.
The Boston Globe made the call last week for a nationwide denouncement of the president's "dirty war" against the media, using the hashtag #EnemyOfNone.
Mr Trump has derided media reports as "fake news" and attacked journalists as "enemies of the people".
UN experts have said this raises the risk of violence against journalists.
The Boston Globe had pledged to write an editorial "on the dangers of the administration's assault on the press" on 16 August, and asked others to do the same.
The initial positive response from 100 news organisations has grown closer to 350 with major US national newspapers and smaller local outlets answering the call, along with international publications like the UK newspaper The Guardian.
What have the papers said?
Another paper to join the campaign was the Topeka Capital-Journal which said of Mr Trump's attack on the media: "It's sinister. It's destructive. And it must end now." The paper was one of the few to endorse Mr Trump in 2016.
The fact that Mr Trump won without such media endorsements may cast doubt on whether the Globe's campaign would actually dent his support.
A poll released on Tuesday by Quinnipiac University suggested that 51% of Republican voters now believed the media to be "the enemy of the people rather than an important part of democracy" and 52% of the Republican supporters polled were not concerned the Mr Trump's criticism would lead to violence against journalists.
Among all voters, 65% believe the news media to be an important part of democracy, the poll suggests.
There have also been some dissenting voices to the Globe's campaign.
Tom Tradup at the conservative website Townhall.com, panned the Globe's "pathetic bid to pretend it is still relevant", writing: "I would not presume to tell anyone else what to think or what to do. But as for me – and I suspect many others – I won't be putting any coins in any newspaper box August 16th."
The Wall Street Journal declined to take part. An earlier piece by James Freeman argued Mr Trump was entitled to free speech and the Globe's drive ran counter to the very independence it was seeking.
Thursday's campaign comes after a series of incidents and Trump remarks ramping up pressure on the media.
While Mr Trump's daughter Ivanka distanced herself from her father's media attacks, White House press secretary Sarah Sanders refused to say the media were not an enemy of the people.
And at a presidential rally in Florida in July, CNN filmed Mr Trump's supporters yelling insults and swearing at reporters covering the event. CNN presenter Jim Acosta tweeted a clip, which contained strong language.
Source: bbc.co.uk