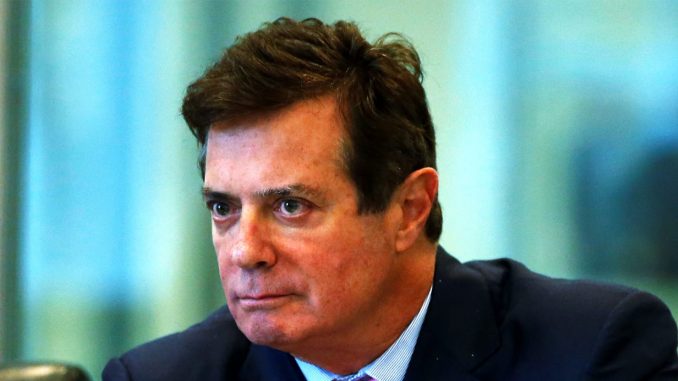 Ex-Trump campaign chairman Paul Manafort's lawyers have rested their case without calling any witnesses in his bank and tax fraud trial.
A US judge also dismissed Mr Manafort's motion to throw out all 18 charges filed against him by Special Counsel Robert Mueller.
This is the first criminal trial to come from the Department of Justice-led inquiry into alleged Russian meddling.
Mr Manafort, who has pleaded not guilty, also declined to testify.
Prosecutors, who rested their case on Monday, say the 69-year-old dodged taxes on millions of dollars he made lobbying for Ukrainian politicians.
The surprise move from the defence team came on the 11th day of the trial and clears the way for closing arguments to begin on Wednesday.
If found guilty on the fraud charges, Mr Manafort could spend the rest of his life in jail.
His trial on charges of money laundering and illegal lobbying is due to begin in September.
Mr Manafort is accused of laundering more than $30m (£22m) and failing to disclose his lobbying efforts to the Department of Justice.
On Monday, before resting their case, prosecutors revealed new emails showing Mr Manafort's financial dealings.
Prosecutors pointed out emails purporting to show Federal Savings Bank Chairman Steve Calk's attempts to secure a job in the Trump administration through Mr Manafort.
Mr Calk had earlier approved $1m loan for Mr Manafort, and had urged the bank to loan Mr Manafort millions despite concerns over whether he could pay back the money.
The Washington Post reported numerous emails between the two men where Mr Calk sought "advice" on his petition to become US Secretary of the Army.
Among those emails is one to President Trump's son-in-law and adviser, Jared Kushner, where Mr Manafort recommended Mr Calk for the Secretary role.
According to CNN, Mr Kushner reportedly responded: "On it!"
Mr Calk was never nominated for a job in the administration, but served on the Trump campaign's economic advisory council.
What's the background?
Mr Manafort led US President Donald Trump's 2016 presidential campaign for several months in 2016, including in August when Mr Trump won the Republican party's nomination.
He was charged in October 2017 as part of Special Counsel Mueller's investigation into alleged Russian meddling in the 2016 presidential election.
But most of his alleged crimes pre-date his time working for Mr Trump and instead centre on his consultancy work for Russian-backed Ukrainian politicians.
The New York Times reported that the Ukrainian government had uncovered ledgers pledging more than $12m (£9.2m) in cash payments for his work as an adviser to Ukraine's deposed pro-Russian former President, Viktor Yanukovych, when he was in office.
It has also been alleged that he secretly worked for a Russian billionaire to assist President Putin's political goals in other parts of the former USSR. Mr Manafort denied the allegation.
Who has testified?
Rick Gates, Mr Manafort's former right-hand man, struck a plea deal with prosecutors in February after admitting two charges of conspiracy and lying to the FBI.
He testified that Mr Manafort had directed him to lower taxable income by reporting overseas income as loans.
Gates also claimed that he had been ordered by Mr Manafort not to disclose foreign bank accounts in Cyprus.
Mr Manafort's lawyers alleged that Gates engaged in illegal action without Mr Manafort's knowledge.
But Mr Gates claims that the illegal money transfers had been done at his colleague's request.
Accountant Cindy LaPorta – who was granted immunity from prosecution – also took the stand and was asked by prosecutors if she had been aware of a $10m (£7.7m) loan in 2006 from Russian oligarch Oleg Deripaska.
She said that she had suspected Gates was misleading her about Mr Manafort's finances.
But she said she was under the impression that Mr Manafort had been directing his deputies' actions and "knew what was going on".
Source: bbc.co.uk