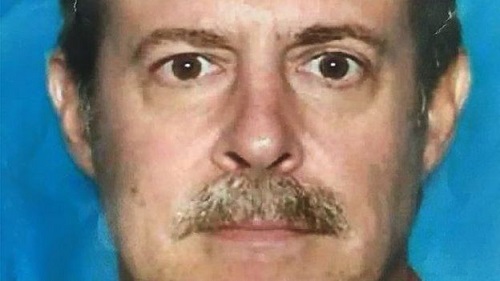 he suspected killer of a former surgeon for ex-President George H W Bush has killed himself as officers closed in on him, say police.
Joseph James Pappas, 62, allegedly killed cardiologist Mark Hausknecht last month over a 20-year grudge.
In 1997, Pappas' mother died on the operating table as Dr Hausknecht was treating her.
Pappas – who police say had compiled an intelligence file on the victim – worked as a policeman for 30 years.
Surveillance video captured the attack in broad daylight on 20 July, showing a cyclist riding behind the 65-year-old cardiologist.
He overtakes him, then stops and turns back, before shooting him twice near a noisy construction site.
Houston Police Chief Art Acevedo told reporters on Friday that Pappas was wearing a bulletproof vest and appeared to take a tactical position behind his vehicle's engine block after a first officer arrived on the scene.
After a second patrol car arrived from a different direction, Pappas shot himself once in the head, said Chief Acevedo.
He added that he was "thankful" the suspect had committed suicide.
"You normally don't put on a bulletproof vest when you're thinking about suicide," he said.
"I'm convinced that if we had not had that second officer arrive from a different angle, we would have had a shootout here."
During a search of Pappas' home, officers discovered "a very extensive intelligence file" on Dr Hausknecht.
"He knew everything you could possibly find on this man," the chief said.
When asked about Pappas' motive, Chief Acevedo told reporters "the only connection" police could find thus far "is the fact that Dr Hausknecht operated on [Pappas'] mother over 20 years ago and she died on the operating table".
"Look, the human mind is very fragile," he said. "If you try to use logic to an illogical act, which is murdering somebody in cold blood, you're already down the wrong rabbit trail."
Source: bbc.co.uk