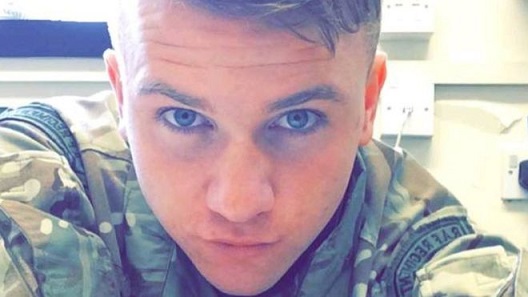 Missing airman Corrie Mckeague is "somewhere in the Suffolk waste disposal system", his father has said.
Corrie Mckeague was 23 years old when he vanished on a night out in Bury St Edmunds, Suffolk, on 24 September 2016.
Writing on Facebook, Martin Mckeague said: "Corrie is no longer missing… after looking at all of the facts and evidence we now know what happened."
But Corrie's mother Nicola Urquhart insisted she had "not given up" the search for her son.
Police believe the airman climbed into a waste bin and was taken away by a refuse lorry.
Mr Mckeague said his son was "known to sleep in and on top of bins, a fact that has been corroborated by Suffolk Police from their interviews".
He also said that on the night Corrie went missing, one bin had a recorded weight of 116kg – "an unusually high number for this bin, which tells us my son was inside".
He acknowledged that Corrie's remains were "essentially irretrievable".
But Ms Urquhart, who is divorced from Mr Mckeague, said she would "keep fighting for the answers I need".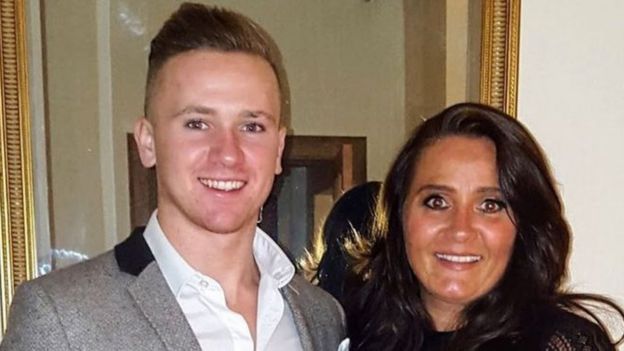 In a post on Facebook, she said: "Corrie is missing, he has not been found, nor has their been any corroborated evidence shown to me yet to say what has happened to my son.
"Although to the very depths of my soul, I know and feel Corrie is not AWOL, I CANNOT state this is a fact, as there is no proof."
Ms Urquhart also confirmed she would be meeting the police in August "to be given answers".
Mr Mckeague, originally from Dunfermline and serving at RAF Honington in Suffolk, disappeared after a night out in Bury St Edmunds.
No trace of him has been found, and police said in March that the investigation was being handed to a cold case team.
His father wrote that police came to visit the family in Scotland to review the facts of the investigation in detail in October and February.
He said he had been presented with evidence that was "as thorough as it was compelling" and experts had "concluded beyond any doubt that Corrie had ended up in the Suffolk waste disposal system".
"Accepting that conclusion has clearly not been easy for the Mckeague family in Scotland, nor anyone else," he wrote.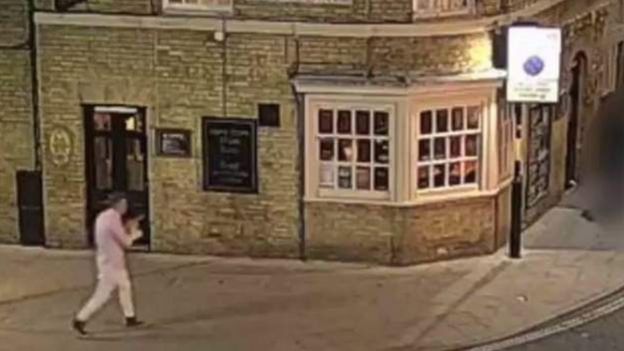 Mr Mckeague said the remaining areas were either "too toxic to search" or "so vast it could take years to do so".
He added: "We thought there might be a small glimmer of hope for the Mckeague family that a card reader could be used to identify the whereabouts of Corrie's bank card in the landfill site.
"I myself searched the internet to see if that technology could help but found nothing to support that theory.
"It was also the view of the National Crime Agency and Suffolk Police… there is no technology currently available that can, in these case circumstances, undertake such a task."
Mr Mckeague said there are plans for a memorial for his son.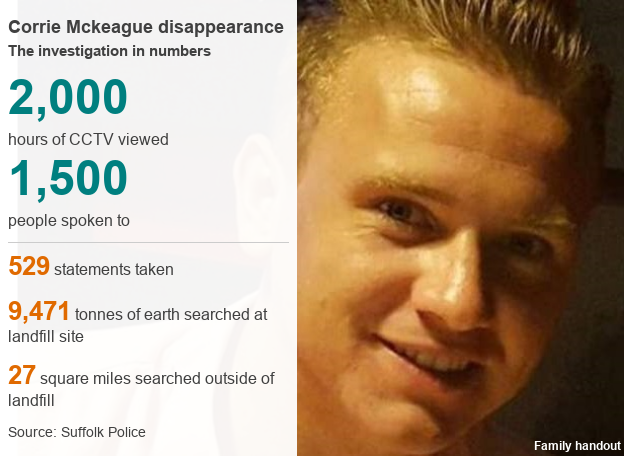 Police said in March there were "no realistic lines of inquiry left" in the investigation.
The investigation into the disappearance has cost £2.1m and Suffolk's police and crime commissioner said the government had agreed to contribute with a special grant, expected to be about £800,000.
Source: bbc.co.uk