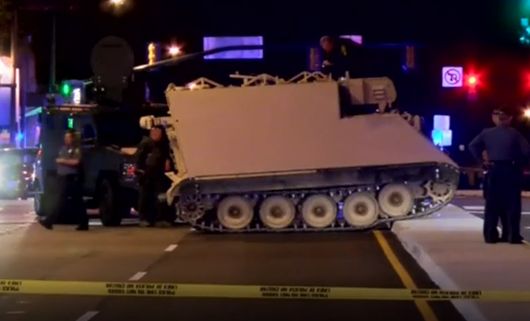 A soldier in the US has been arrested after stealing an armoured military vehicle and leading police on a two-hour chase through a busy city.
The vehicle was taken from the Ford Pickett National Guard base in Virginia on Tuesday and was driven at speed through the state capital, Richmond.
Footage posted on social media showed more than a dozen police cars in pursuit of the personnel carrier, which was not equipped with any weapons.
No injuries or crashes were reported.
The dramatic chase came to an end when the driver drove the vehicle on to a central reservation and was surrounded by police, according to local media.
In a news conference, police spokeswoman Sergeant Keeli Hill told reporters that the suspect was then tasered and later identified as a soldier.
"The military vehicle – which is not a tank – was driven at a maximum speed of about 40mph (65kmh)," she said, adding that it belonged to the Virginia National Guard.
Source: bbc.co.uk