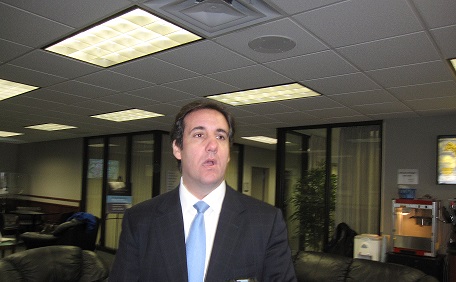 Donald Trump's personal lawyer, Michael Cohen, has said he will invoke his constitutional right to remain silent in a civil case brought by adult film actress Stormy Daniels.
It is part of an effort to delay the suit brought by Ms Daniels, who says she had sex with Donald Trump in 2006.
She is seeking to end a non-disclosure deal signed over the matter.
Mr Cohen argues any statement he makes in court could affect a criminal inquiry into his business affairs.
As part of that investigation, the FBI raided his offices for information, including on the non-disclosure agreement Ms Daniels signed days before the 2016 presidential election.
Lawyers for Mr Cohen and Mr Trump have asked for the Daniels case to be put on hold in Los Angeles for 90 days.
What is the Fifth Amendment?
The Fifth Amendment to the US constitution states that no individual can be "compelled in any criminal case to be a witness against himself".
Invoking the amendment means Mr Cohen will not have to reveal sensitive information in the wider investigation into his affairs.
A lawyer for Ms Daniels, Michael Avenatti, described Mr Cohen's move as a "stunning development".
Who else has pleaded the Fifth?
It was famously used in the 1950s by many of those forced to appear before Senator Joseph McCarthy's committee investigating communist activities.
The best-known example was the "Hollywood 10" – a group of screenwriters and directors who, when accused of being members of the Communist Party, used it in protest at what they perceived as Mr McCarthy's bullying. The committee decided their actions were illegal and jailed them for contempt.
During the Iran-Contra scandal of the 1980s, President Ronald Reagan admitted the US had secretly sold arms to Iran and siphoned off the profits to fund "contra" rebels trying to overthrow Nicaragua's socialist government.
One figure to emerge was Lt-Col Oliver North, who repeatedly invoked the Fifth Amendment when asked about his involvement in the affair.
He was given a three-year suspended sentence for his role in the affair but was later pardoned.
The Fifth also played a role in one of America's most notorious murder trials, when Los Angeles detective Mark Fuhrman, a key prosecution witness in the OJ Simpson trial, controversially used it after tapes showing him using racist language were played by the media.
Mr Fuhrman was forced to invoke the amendment three times on whether he had used racist language about ethnic minorities, angering the jury.
Why is Mr Cohen being investigated?
The investigation into Mr Cohen's affairs is part of an investigation by Special Counsel Robert Mueller into alleged Russian interference in the 2016 presidential election and possible collusion with the Trump campaign.
Russia denies interfering in the election and Mr Trump has denied any collusion.
Separately, Ms Daniels – real name Stephanie Clifford – alleges she had a sexual relationship with Mr Trump in 2006.
Mr Trump has denied having sex with Ms Daniels or any knowledge of the $130,000 (£92,000) payment to Ms Daniels by Mr Cohen during the 2016 presidential campaign.
Ms Daniels accepted the sum in return for signing the non-disclosure agreement.
During a recent television interview, she said she had been threatened in 2011 in a Las Vegas car park while she was with her infant daughter, and had been told to keep quiet about her alleged relationship with Mr Trump.
Ms Daniels is now suing the president in an attempt to invalidate the non-disclosure agreement, which she alleges is invalid because he did not sign it personally.
Legal analysts have said that Mr Cohen's $130,000 payment to Ms Daniels could have violated the rules on financing Mr Trump's 2016 presidential campaign.
Source: bbc.co.uk