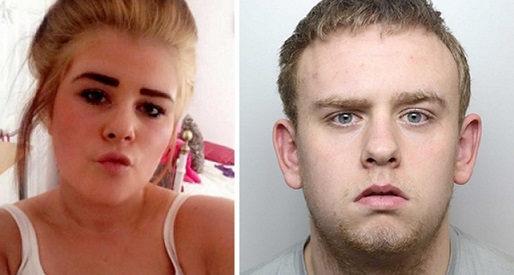 A 19-year-old man "obsessed with murder and killing" has been jailed for stabbing a 16-year-old girl to death in a "brutally violent" attack.
Shea Heeley stabbed Leonne Weeks 28 times before hiding her body beneath an abandoned sofa in an alleyway in Dinnington, near Rotherham, in 2017.
Sheffield Crown Court heard Heeley later told doctors: "I like that I've done it. I just do. I like killing."
He was jailed for life with a minimum term of 24-and-a-half years.
Heeley, of Doe Quarry Lane, Dinnington, pleaded guilty to murder at an earlier hearing at the same court.
A psychiatric assessment had concluded Heeley had no diagnosable psychiatric disorders and therefore he was fit to plead.
The court heard he had lured Leonne to a secluded alleyway off Lordens Hill on the evening of Sunday 15 January 2017.
Prosecutor Timothy Roberts QC said: "There in the dark for no reason at all and with a knife that he had taken there for that very purpose, Shea Heeley launched a furious attack upon Leonne, stabbing her no less than 28 times until she was dead.
"He then dragged her lifeless body a short distance and hid it under a discarded, upturned sofa which had been dumped there.
"He walked away and left her there. He must have then disposed of the knife for it has never been discovered."
He said that after the murder Heeley "invented a story" and contacted a friend to say that he had been attacked with a knife.
He then went to a flat where a group of friends had been babysitting, telling them the same story and saying he needed to wash his hands.
Mr Roberts said: "He was already thinking about how to avoid responsibility for what he had done".
Later that night he took a group of friends to the alleyway where he killed Leonne claiming that was where he had been attacked.
Mr Roberts said Heeley hoped that if anybody had seen him in the alleyway "he would have two witnesses to say they were with him and he was not with any girl".
The following day, after Leonne's body had been discovered, he told a friend the last time he had seen her was at about 19:00 GMT the night before.
He said he had offered to walk her home but she had refused.
He also attempted to cover his tracks by sending a message to Leonne's phone at 20:30 on the Sunday evening asking where she was.
The court heard that following his arrest it emerged he had made more than 1,000 internet searches about murder, weapons and serial killers.
Mr Roberts said that on 4 January he had searched "how to get away with murder" and nine days later for "how to train myself to be a killer".
He said Heeley had also visited websites about psychopaths and when police searched his home they found a book and DVD about serial killers Fred and Rosemary West.
The court heard that while at the police station Heeley told a mental health worker he "had always known he was going to kill someone from an early age".
He was subsequently assessed by doctors at HMP Rampton who found no diagnosable mental health disorder, but evidence of an "emerging personality disorder".
During his time there he confessed the killing to a social worker, saying "he could hear [Leonne's] screams" and that "he had demons inside him".
Source: bbc.co.uk