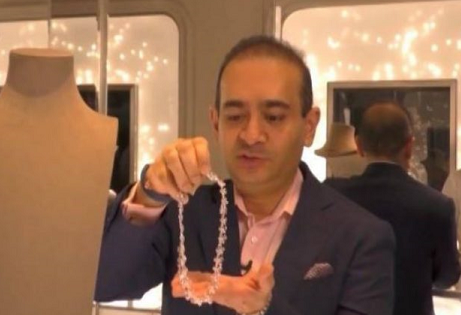 He was already the second most famous Mr N Modi of India.
But now Nirav Modi – the billionaire diamond trader and jeweller to Hollywood and Bollywood stars – is in the news for very different reasons.
Last month, Punjab National Bank filed a criminal complaint that accused Mr Modi and others of defrauding the bank, costing it 2.8bn rupees ($43.8m).
Then this week, the same bank publicly alleged that the jeweller was among those involved in an alleged $1.8bn fraud – which has led to fears for India's second-largest state-run bank.
This was echoed by India's law and justice minister, who told a press conference that "Nirav Modi and his accomplices attempted to bypass established banking channels by perpetrating this fraud".
While police have begun formal investigations into Mr Modi, no charges have been brought.
The diamond tycoon is yet to comment on the claims, and so far, it is understood detectives have not managed to speak to him.
However high profile police raids on his jewellery stores and other businesses have made this a huge corporate story.
And his supposed links with that other N Modi – India's Prime Minister Narendra Modi – means it is rapidly becoming a political story too.
Who is Nirav Modi?
Best-known to the public as a jeweller, Nirav Modi started trading under his eponymous brand in 2010, specialising in diamonds.
Kate Winslet and Rosie Huntington-Whiteley are among those who have worn his earrings and necklaces on the Hollywood red carpet.
And at home in India, the brand's ambassador is Priyanka Chopra – one of Bollywood's biggest stars. Her face stares out from the firm's advertising billboards across Mumbai, Delhi and Bangalore.
The brand made its mark in some style after one of his earliest pieces, described on the company website as a 12.29 carat Golconda diamond, "surrounded by pear shaped diamonds… and subtle accents of 34 Argyle pink diamonds" was featured on the front cover of a Christies catalogue and sold by the auction house in Hong Kong for $3.8m.
Jewellery trading runs in the family.
His uncle is head of the Gitanjali Group, which has about 4,000 shops across India.
But Mr Modi was also born into a diamond trading dynasty, based in the industry capital Antwerp, and later established Firestar Diamond – his own diamond making operation in India almost 20 years ago.
And he has certainly done well from the business. Forbes puts his wealth at $1.75bn and ranks him as India's 84th richest person.
What is the political angle?
Doing the rounds on social media is a group photograph of India business people and politicians at the recent World Economic Forum summit in Davos.
It includes both Nirav Modi and Narendra Modi.
There is nothing especially sinister in this. He is only one of about 50 people pictured.
And the ruling party has denied Nirav Modi was part of the prime minister's Davos delegation.
"No personal meeting with the prime minister took place," said law and justice minister Ravi Shankar Prasad.
"I wish to deny this with full authority. Those living in glass houses, which are already broken, should not throw stones at us as the Modi government is working with full honesty."
But opposition politicians are capitalising on the links.
And they are not ignoring the fact the men, who are unrelated, share the same name – even starting a hashtag: #From1MODI2another.
They are also accusing the ruling BJP party of going soft on the diamond trader – including claims that the prime minister knew about the fraud investigation for some time.
And with reports that Nirav Modi left the country in January, parallels are inevitably being drawn with prominent Indian businessman Vijay Mallya, who allegedly defaulted over a billion dollar loan and managed to leave India in 2016.
However, faced with a crisis of confidence in the management of its state-run banks, the government has promised action.
Ravi Shankar Prasad told a press conference that nobody found to have a role in any fraud would be spared.
Source: bbc.co.uk