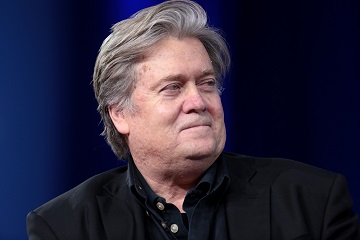 President Trump's former chief adviser, Steve Bannon, has refused to answer a range of questions posed by a congressional committee.
He was being interviewed by the House intelligence committee, which is investigating alleged Russian meddling in the 2016 presidential election.
Mr Bannon would answer only 25 questions approved in advance by the White House, members said.
The committee is reportedly considering holding him in contempt.
"Steve Bannon stonewalled the intel committee today," Democratic member Joaquin Castro said in a tweet.
"Sure seems like he's covering up something(s). He should be held in contempt."
Adam Schiff, the panel's Democratic leader, called for contempt proceedings against Mr Bannon, according to Reuters news agency.
Republican Representative Mike Conaway said members of the panel were unhappy with Mr Bannon's responses.
"He did not answer all the questions we'd like answered, so there was frustration among committee members with respect to that," said Mr Conaway.
The hearing was a closed-door session, so full details have not yet emerged – instead being revealed by senior journalists with sources on the committee.
CNN senior congressional correspondent Manu Raju tweeted that Mr Bannon had been advised by President Trump to invoke executive privilege, a prerogative allowing him to withhold information.
Mr Bannon – who was forced out of the White House in August – appeared following a subpoena from the House Intelligence Committee.
He voluntarily met with the same committee in January but refused to answer any questions over a 10-hour period.
The committee then issued a subpoena compelling him to return for a second time.
According to the New York Times, he has also been subpoenaed by former FBI director Robert Mueller, the Justice Department special counsel who is leading a parallel inquiry into alleged collusion with Russia during the 2016 election campaign.
Mr Bannon is reportedly the first of Mr Trump's inner circle to be summoned to testify before a grand jury.
Source: bbc.co.uk