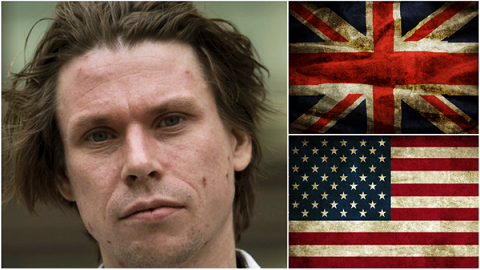 Alleged computer hacker Lauri Love has won his High Court appeal against his extradition to the US.
Mr Love, 32, from Stradishall, Suffolk, who was first arrested in October 2013, is suspected of hacking into FBI, US Central Bank and Nasa systems.
Lord Chief Justice Lord Burnett and Mr Justice Ouseley said they permitted Mr Love's appeal against his extradition.
However, they said it would "not be oppressive" to "prosecute Mr Love in England for the offences".
Mr Love, speaking outside the court, said he was "very thankful for all the support" he had received.
He said he hoped he had set a "precedent so this will not happen to people in the future".
Authorities in the US have been fighting for Mr Love to face trial on charges of cyber-hacking, which lawyers have said could mean a sentence of up to 99 years in prison if he is found guilty.
Mr Love is alleged to have stolen huge amounts of data from US agencies, including the Federal Reserve, the US army, the defence department, Nasa and the FBI in a spate of online attacks in 2012 and 2013.
However, his supporters had warned if he was extradited there was a "high risk" Mr Love, who has Asperger syndrome, would kill himself.
He has also been diagnosed with a depressive illness.
The decision to block extradition was met with cheers in the packed London courtroom.
Emma Norton, head of legal casework for Liberty, welcomed the decision.
"We are delighted that the court has today recognised Lauri's vulnerability, close family connections to the UK and the potentially catastrophic consequences of extraditing him," she said.
"This was always a case that could have been prosecuted here and it's shameful that Lauri and his family have been put through this terrible ordeal."
Lauri Love Timeline
28 October 2013: Lauri Love is arrested in Suffolk under the Computer Misuse Act and accused of breaching the security of Nasa and FBI, among other US government agencies. He is released on bail.
27 February 2014: Mr Love is accused of a new charge of hacking into US Federal Reserve computer servers and stealing the personal information of users.
20 February 2015: Police in the UK say they will not return Mr Love's computer because they cannot decrypt its files.
16 July 2015: Mr Love is re-arrested by the Met Police executing an extradition warrant on behalf of the US.
20 August 2015: Mr Love tells the BBC he fears he will not get a fair trial in the US.
10 May 2016: A bid by the National Crime Agency to force Mr Love to hand over encrypted computer passwords is thrown out by a district judge at Westminster Magistrates' Court.
6 September 2016: Mr Love tells the BBC he fears dying in jail if he is extradited.
16 September 2016: A judge at Westminster Magistrates' Court rules Mr Love should be extradited to the US.
24 October 2016: MPs sign a letter asking President Obama to block Mr Love's extradition.
14 November 2016: Home Secretary Amber Rudd signs the extradition order.
29 November 2017: The Court of Appeal begins hearing Mr Love's appeal against extradition.
Source: bbc.co.uk