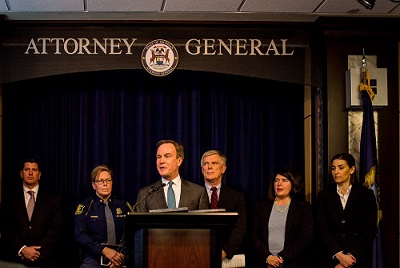 Michigan's attorney general has promised a full investigation into how sports doctor Larry Nassar was able to abuse young women for decades while working at a university in the state.
"We will meet with every victim," Bill Schuette said, in a televised statement. "We will listen to them."
Nassar was effectively sentenced to life in prison on Wednesday for sexually abusing young athletes.
The university's president and its athletics director have since resigned.
Nearly 160 women accused Nassar, 54, of abuse.
He worked at Michigan State University (MSU) between 1997 and 2016 and also served as national medical co-ordinator for USA Gymnastics (USAG) from 1996 to 2014.
USAG's entire 18-member board resigned over the scandal on Friday.
Multiple molestation complaints from young athletes against the physician were ignored by MSU.
"It is abundantly clear that a full and complete investigation of what happened at Michigan State from the president's office down is required," Mr Schuette declared. "We will put a bright light at every corner of the university."
He appointed Michigan State Police Director Kriste Kibbey Etue and former Kent County prosecutor William Forsyth to lead the investigation.
Mr Forsyth said they would seek to establish how athletes had been complaining about Nassar since the 1990s yet the university had not opened an investigation until 2014.
"How was he able to engage in this behaviour for over 20 years?" Mr Forsyth asked, flanking Mr Schuette.
President Lou Anna Simon resigned on Wednesday and Athletic Director Mark Hollis announced his retirement on Friday.
Asked why he would not stay on, he said it was because he "cared", CBS News reports.
"When you look at the scope of everything, that's the reason I made a choice to retire he now," said, on the verge of tears. He said he hoped his resignation would help the healing process.
MSU has named its Vice-President, Bill Beekman, to replace Ms Simon.
At a university board meeting, Chairman Brian Breslin said it was clear the college had "not been focused enough on the victims".
Trustees, he said, wanted to resume discussions with those who had sued the school to "reach a fair and just conclusion".
Nassar was sentenced to serve between 40 and 175 years in prison.