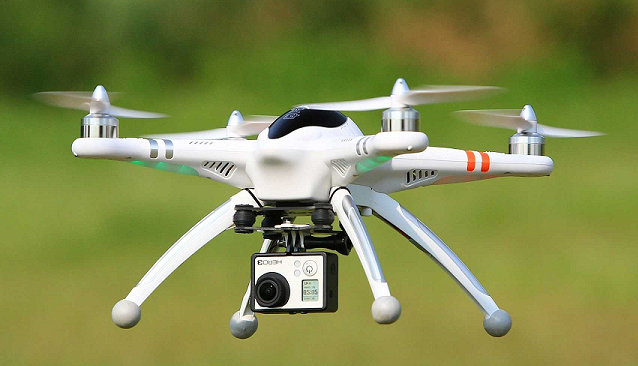 The ringleader of a gang who smuggled drugs and phones into prisons using drones has been jailed for seven years and two months.
Former armed robber Craig Hickinbottom, 35, organised the flights from behind bars, Birmingham Crown Court was told.
His gang put goods worth more than an estimated £1m into jails as far apart as the West Midlands and Scotland.
The packages were attached to fishing lines, and flown over prison walls. Seven others were also sentenced.
The group were convicted of organising 49 drone flights, although police believe the actual number may be higher.
They were also found guilty of four "throw-overs" of contraband.
They were caught by chance, by cameras set up to film wildlife outside Hewell Prison in Worcestershire.
Footage shows two of the men in a field, preparing a drone for flight, before sending it over the hedge to the prison grounds.
Inside, the packages were retrieved by inmates using tools such as an extendable broom handle with a hook.
Prison CCTV then showed others visiting their cells and walking out with packages.
Drone pilot Mervyn Foster, 36, of Tipton, West Midlands, was jailed for six years and eight months for his part in the plot.
Both he and Hickinbottom pleaded guilty to conspiring to bring contraband into prison, and conspiracy to supply psychoactive substances.
The court was told the offences were committed between July 2015 and May this year at jails in Worcestershire, Staffordshire, Birmingham, Yorkshire, Cheshire, Liverpool, and Perth.
Passing sentence, Judge Roderick Henderson said: "Prisons are difficult enough places to run – they contain people who are dangerous and vulnerable.
"Supplying things into prison that should not be there – drugs, phones, tools and the like – threatens proper management… and creates real risks of violence and loss of control and discipline".
Source: bbc.co.uk