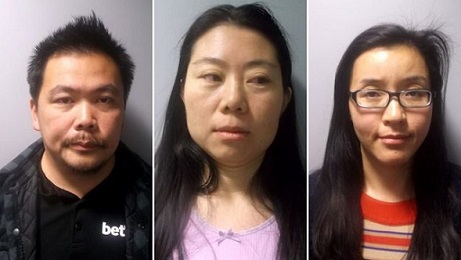 Three people have been found guilty of running a prostitution network described as a "sexual conveyor belt" by a judge.
Hong Chin, 45, former partner Li Wei Gao, 44, and lover Ting Li Lu, 47, lured women to the UK from China and Korea, jurors at the Old Bailey heard.
They advertised the women online and set them up in hotels across England and Wales.
All three were found guilty by a majority verdict.
In just over two years more than £150,000 was paid into bank accounts operated by the gang, helping to afford private school fees and exclusive golf club membership.
Sussex detectives had identified 19 victims, many of whom were believed to be debt-bonded to traffickers in China.
The women advertised sex services on adult websites, and meetings with customers were organised by the defendants.
One woman told jurors she was forced to have sex with as many as ten men a day, with half her earnings passed on to her handlers.
Chin used false details to make 92 bookings at hotels across England and Wales between August 2013 and February 2015.
When police visited the rooms, they frequently found them in disarray, with the detritus of prostitution in evidence, including condoms.
In his summing up, Judge Philip Katz QC described the operation as a "sexual conveyor belt".
Detectives also gathered evidence from mobile phones, adult websites and hotel booking records.
They uncovered CCTV footage which showed the defendants escorting women to hotels around the country.
Chin, who had a fake British passport and went by various names including Ricky and Ken, ran a pit bull dog breeding kennel on a country estate in Esher, Surrey, where Gao stayed in a converted barn with their daughter.
Chin and Lu, from Portsmouth, were both found guilty of trafficking people within the UK for sexual exploitation.
Gao, from Oxshott, Surrey, was found guilty of controlled prostitution for gain and acquiring or possessing criminal property, alongside Chin and Lu.
None of the defendants gave any evidence during the trial.
A sentencing date has yet to be set.
At the end of the case, Det Insp Andy Richardson praised the bravery of the woman who gave evidence at the trial.
"Often the women were moved to different towns around the south east where hotel rooms were booked for them, and then they were told who they would be seeing and what services they had to offer; they had no say in any of this," he said.
Source: bbc.co.uk