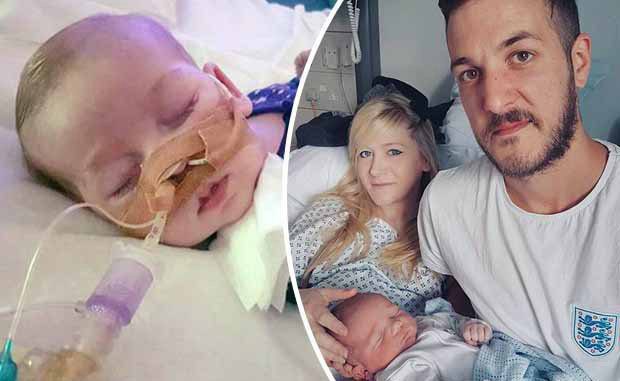 The parents of terminally-ill baby Charlie Gard have ended their legal challenge to take him to the US for experimental treatment.
A lawyer representing Chris Gard and Connie Yates told the High Court that "time had run out" for the baby.
Grant Armstrong said Charlie's parents had made the decision because an American doctor said it was too late to give him nucleoside therapy.
"The parents worst nightmare have been confirmed", Mr Armstrong said.
He told the presiding judge Mr Justice Francis that US neurologist Dr Michio Hirano had said he was no longer willing to offer the baby experimental therapy after he saw the results of a new MRI scan last week.
He added Mr Gard and Ms Yates would now look to establish a foundation so that Charlie's voice "continues to be heard".
They had raised £1.3m in donations to take their 11-month-old abroad for treatment.
Charlie has encephalomyopathic mitochondrial DNA depletion syndrome. He has brain damage and cannot move his arms or legs.
Katie Gollop, the lawyer representing Great Ormond Street Hospital (GOSH) where Charlie has been treated since October, said the hearts of each person at the hospital "go out to Charlie, his mother and father".
Mr Justice Francis paid tribute to Charlie's parents and said no-one could comprehend their agony and no parents could have done more.
He said they were now prepared to accept Charlie should be moved to palliative care and be allowed to die with dignity.
Their lawyer said continuing the fight would cause Charlie pain.
Charlie Gard: Timeline of parent's legal battle
3 March 2017: Mr Justice Francis starts to analyse the case at a hearing in the Family Division of the High Court in London
11 April: Mr Justice Francis says doctors can stop providing life-support treatment
3 May: Charlie's parents ask Court of Appeal judges to consider the case
23 May: Three Court of Appeal judges analyse the case
25 May: Court of Appeal judges dismiss the couple's appeal
8 June: Charlie's parents lose fight in the Supreme Court
20 June: Judges in the European Court of Human Rights start to analyse the case after lawyers representing Charlie's parents make written submissions
27 June: Judges in the European Court of Human Rights refuse to intervene
24 July: Charlie's parents end their legal fight to take him to the US for treatment
Source: bbc.co.uk