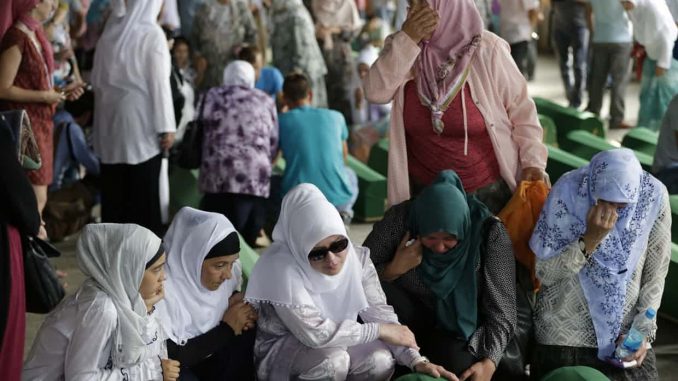 by Waqar Azmi
Today marks the 22nd anniversary of the worst atrocity on European soil since the second world war, the genocide in Srebrenica. This year, thousands will gather at more than 400 events in the UK to commemorate those who were murdered in the genocide and to reflect on how hatred is affecting our communities here in the UK and what we can do to prevent this.
Last year reminded us that the UK cannot afford to become complacent about community cohesion, with some sections of the media and certain political figures stirring up hatred in our communities and a 41% increase in reported hate crime in the aftermath of the EU referendum. A disproportionate level of this hate crime has been targeted at women. At the same time, reported violence against women in the UK has reached an all-time high. As in Bosnia, the root of these crimes is the dehumanisation of others – the belief that the perpetrator is superior by reason of sex, race or nationality, and has the right to control, humiliate or hurt their victims.
That's why we are breaking the silence by inviting women such as Bakira Hasečić, president of the Association of Women Victims of War and a survivor of genocidal rape, to speak about their experiences at commemorations in the UK. Bakira is one of the bravest women I have ever met. By speaking out about what happened to her and thousands of other women during the genocide and seeking justice for the crimes committed against them, she has become a powerful figure from whom we can all learn. She says: "When we survivors first started returning to my home town, we felt that we had to hide from these war criminals who had tried to destroy our lives, but now when I go there, these war criminals hide from me."
In remembering the victims of genocide in Bosnia-Herzegovina, we must never forget that Srebrenica was the final act in a genocidal plan aimed at Bosnian Muslims. Among the victims were the 20,000 to 50,000 women and girls (mostly Bosniak) – as young as 12 – who were subjected to sexual violence. We do not know the exact number of victims, because the majority have remained silent, through stigma, shame and fear.
To read the rest of this article in full please click on the source link below
Source  theguardian.com