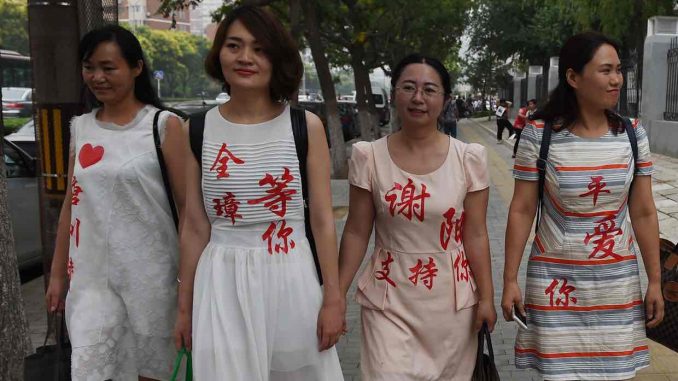 The wives of some of the most prominent victims of Xi Jinping's crackdown on civil society have stepped up their campaign for justice, backing calls for US sanctions against Chinese officials involved in allegedly barbaric cases of torture and abuse.  Addressing a congressional hearing in Washington on Thursday, the women, whose husbands were among the key targets of a Communist party offensive against human rights lawyers, detailed the physical and psychological trauma inflicted by China's so-called "war on law".
Wang Yanfeng, the wife of Tang Jingling, a lawyer and democracy activist who was jailed in 2016 in what campaigners described as "a gross injustice", said her husband had suffered repeated spells of abuse, threats and torture. "Today other [lawyers and political prisoners] are still suffering from such torture," Wang said, calling on US president Donald Trump to challenge China over such abuses.
In a video message, Li Wenzu, the wife of lawyer Wang Quanzhang, said she had heard nothing from him since he was seized by police at the start of the campaign against lawyers in July 2015. "I am deeply concerned about my husband's safety. I don't know how his health is. I don't know whether he has been left disabled by the torture. I don't even know whether he is alive."
Wang Qiaoling, whose husband, Li Heping, recently emerged from a 22-month stint in custody, said he returned home looking "20 years older" and had told of being forced to sit for hours in stress positions and being shackled with chains. "He suffered from very cruel and sick torture," Wang added.
Also giving testimony was Lee Chin-yu, whose husband, the Taiwanese human rights activist Lee Ming-che, vanished into Chinese custody in March after travelling to the mainland. "I stand alone before you today to plead for your help for my husband," Lee said, calling on Washington to pressure China to end her husband's "illegitimate detention".
Since China's crackdown on lawyers began almost two years ago, its victims' wives have emerged as a relentless and forceful voice of opposition, often using humorous online videos and public performances to champion their cause. They say they have done so in defiance of a campaign of state-sponsored intimidation that has seen them trailed by undercover agents, struggle to enrol their children into schools or be evicted from their homes.
Thursday's hearing was part of a push by human rights groups to convince the Trump administration to use a law called the Magnitsky Act to bring sanctions such as travel bans or property seizures against Chinese officials involved in human rights abuses.China has rejected claims of torture against the human rights lawyers it has imprisoned, dismissing such allegations as "fake news".