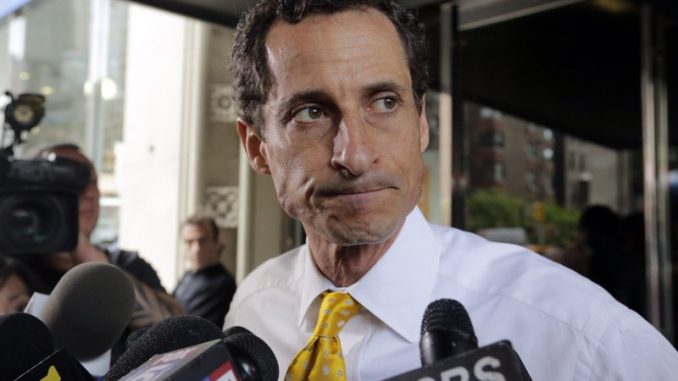 "I have a sickness, but not an excuse," Weiner said in confession to his crime.Weiner, 52, once a Congressman with far bigger ambitions, arrived quietly in Courtroom 12A at the Manhattan Federal Courthouse for the final scene in his bizarre sexual self-immolation.

Once the plea was entered, prosecutors said they will ask for 21 to 27 months in prison for Weiner.

Weiner wore a navy blue suit with a maroon tie, and his hands shook as he signed court papers related to his plea after arriving for the 11 a.m. hearing.

He was under investigation was for his creepy cyber-courting of a 15-year-old North Carolina girl. The courtroom was filled to capacity just a few hours after word of the deal became public knowledge.

Weiner career was torpedoed over and over by his online sexual antics, even after he married Hillary Clinton aide Huma Abedin — and the couple welcomed a son.
Weiner's laptop computer even helped sabotage Hillary Clinton's shot at the White House. He pleaded to ransferring obscene material to a minor, and could face up to 10 years in prison.
Weiner was taken into FBI custody Friday morning, a source told the Daily News. He was not in handcuffs when he reached the courtroom.
The disgraced politician was under federal investigation for exchanging sexually explicit messages and images with the Carolina teen last year.
Earlier this year, Weiner's lawyers had reportedly been in talks with federal prosecutors for weeks, angling for a plea deal to avoid the most serious possible charge, production of child pornography, which would have carried a 15-year mandatory minimum sentence.
The plea stems from Weiner's most recent sexting scandal. Last year, the high school girl came forward to say that he had been exchanging explicit messages with her.
The girl said she decided to go public with their exchanges after seeing reports of Weiner sending pics to another woman with his toddler son in the background.
The teen has claimed he encouraged her to role-play rape fantasies with him and to say his name while touching herself.
Weiner reportedly went by the name "T-Dog" while texting the teen and used an encryption app that erases messages and pictures as soon as they're seen.
In one shirtless photo sent to the girl, Weiner's hand is gripping his genitals.
The investigation follows a series of public embarrassments that cost Weiner his political career and his marriage — and may have helped damage Clinton's presidential campaign.
Abedin, a top aide to Clinton, announced their separation last August after Weiner was caught sending a lewd selfie that showed his 4-year-old son lying next to him in bed.
Investigators soon seized Weiner's electronic devices, including a laptop and a cellphone, as part of the probe into that picture — leading to a series of events that many say contributed to Clinton losing the election.
Federal investigators soon uncovered emails on his laptop that were sent by his estranged wife, prompting FBI Director James Comey to reopen an investigation into Clinton's emails out of concern the shared computer might have had classified documents.
Comey quickly closed the case without any charges, but his announcement, just days before the election, that he'd reopened it at all created negative publicity during a critical moment of the presidential campaign.
Democrats said the attention might have contributed to President Trump's win.
A Clinton presidency isn't the only thing Weiner lost due to his pervy online personas.
The Queens Democrat resigned from Congress in 2011 after a lurid sexting scandal involving a crotch shot that he posted on Twitter.
A testy Weiner insisted to reporters at the time that his account had been hacked. But days later, he came clean and resigned.
He later admitted during a press conference to having carried on inappropriate online relationships with at least a half dozen women.
Two years later, he attempted a political comeback and ran for New York City mayor, but his bid imploded when more online exchanges with women surfaced, including messages he traded with a woman named Sydney Leathers under the pseudonym "Carlos Danger."
Source  nydailynews
Save