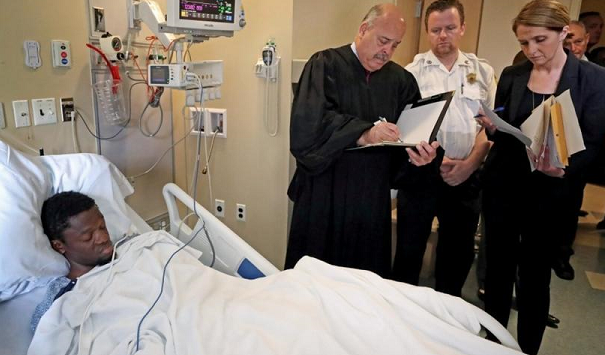 Bampumim Teixeira, 30, of Chelsea, was arraigned in his hospital bed on two murder charges. He faced a judge in his hospital room at Tufts Medical Center on multiple charges, including the murder charges in the deaths of Richard Field, 50, and Lina Bolanos, 38, anesthesiologists who were found Friday night bound and left for dead
Bampumim Teixeira kept his eyes closed through most of the proceeding but at the end of the arraignment opened his eyes to say "Thank you."
Teixeira was ordered held without bail.
Suffolk County prosecutor John Pappas said Richard Field was able to text a friend that a gunman was in the engaged couple's apartment.
The friend called the building's front desk, and police were then called.
Responding officers encountered Teixeira, who immediately began shooting at them, Pappas said.
Officers returned fire, and Teixeira was shot multiple times and taken to a hospital with non-life threatening injuries to his hand, leg and abdomen. No officers were shot, but "several" were transported to hospitals with minor injuries, police said.
However, these initial reports to the media that Teixeira began shooting at them were later corrected.
Suffolk County District Attorney Daniel Conley held a news conference to correct details of the investigation. In addition to saying the suspect did not fire at police, Conley also clarified earlier statements by Boston Police Commissioner William Evans, who said he believed the doctors knew their assailant.
Conley said police entered the apartment and were confronted by Teixeira. He said police — in the darkened apartment — believed Teixeira either pointed or fired a gun at them. Authorities now believe that one officer responded by firing his weapon, then other officers also fired their guns.
Conley said police found a BB gun or a "replica gun" inside a backpack in the apartment.
"We are simply informing the public to correct the record," Conley said.
Conley also said there is "no evidence whatsoever" at this point to conclude Teixeira had a personal relationship with Field or Bolanos.
John Pappas reported earlier that a police "entry team" was called in and found the bodies. He did not say how they were killed, but local media have reported that their throats were slit.
Pappas also said that a backpack full of jewelry, believed to have been taken from Bolanos, was found in the apartment.
Teixeira has twice been convicted of larceny and had recently been released from jail, authorities said. Last June, he passed a note demanding money at a Boston bank. He committed the same crime two years earlier, prosecutors said.