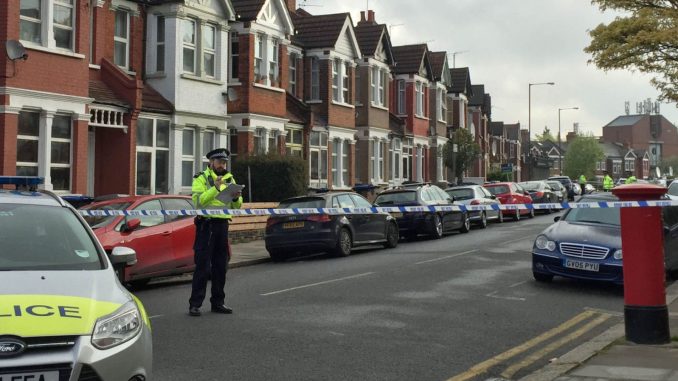 An "active plot" was foiled when armed officers raided a home in northwest London, police have said.
A woman was shot by police during the operation at a property in Harlesden Road, Willesden, shortly before 7pm on Thursday evening.
Officers said the home had been under observation as part of a counter-terrorism operation and armed entry was required "due to the nature of the intelligence we were dealing with".
The woman, aged in her 20s, has not been arrested "at this time" due to her condition, which is said to be "serious but stable".
Officers used CS gas during the armed raid, which resulted in the arrests of two people at the home and another nearby.
Later, a man and a woman, both aged 28, were arrested when they returned to the property.
Another woman, aged 43, was also held in Kent.
Officers continue to search the property on Harlesden Road, as well as two other London addresses.
Met Police deputy assistant commissioner Neil Basu said the arrests "have contained the threats that they posed".
He said: "With the attack in Westminster on 22 March so fresh in people's minds, I would like to reassure everyone that across the country officers are working round the clock to identify those people who intend to commit acts of terror.
"After that attack, we increased the number of officers on duty patrolling at key locations – and that continues as we police against the backdrop of a severe terrorist threat."
One neighbour, who wished to remain anonymous, said he heard three gunshots and described seeing a "squad" of armed police descend on Harlesden Road.
He said: "They brought down a woman, a lady, in a black scarf, a black burka.
"We saw she had been shot – the paramedics and ambulances that were there, they stripped off her clothing to get access to the wounded areas."
He said the woman was carried out of the house on a stretcher, adding the family who live there are from Somalia.
A woman who lives next door to the raided property said she saw officers with "gas masks and snipers".
She said: "We heard 'bang, bang, bang, bang', went to the window and just saw a number of armed police just there with their guns pointing at our next-door neighbour's window."
She said a woman was "screaming really loud" and described her neighbours as a "standard Muslim couple" of whom she "never suspected anything at all".
Another neighbour who witnessed the raid unfolding told Sky News it was "really scary".
Jeane Fillaule said: "I thought I was safe in this area but I really don't feel safe anymore."
The shooting has been referred to Met Police's Directorate of Professional Standards and the Independent Police Complaints Commission.
Police said the raid was unconnected to the arrest of a man just yards from Downing Street on suspicion of preparing a terror attack.
Source  news.sky.com