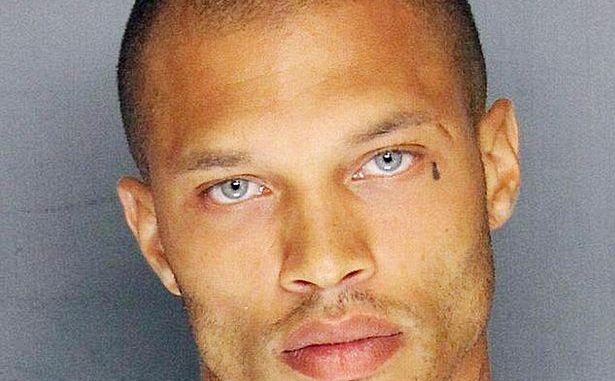 A man dubbed the 'world's hottest criminal' has been kicked out of the UK just hours after he arrived in the country for a magazine launch.  Jeremy Meeks was taken to one side at Heathrow after he landed at the airport on a flight from the US according to his manager, Jim Jordan.  Meeks, who shot to fame as a result of his now famous mugshot, was put on an American Airlines flight back to the US leaving his manager and his wife, Melissa, in the UK.  He arrived from Los Angeles yesterday to attend a launch party after featuring on the front cover of Man About Town which is due out on Thursday.  His manager told MailOnline that Meeks was not arrested but was detained by border officials despite having the correct paperwork before being sent back to New York.
He told the website: 'They wouldn't let him come into the country. He is really upset. He was police-escorted onto the plane.'
Meeks recorded himself walking through the airport saying: 'I'm sick of this shit. I've been denied. London don't want me here having served my time. This shit is crazy.
He then showed the officials with him adding: 'Escorts, escorts. Don't make no sense.'
Meeks went viral in 2014 after his mugshot was put online by Stockton Police Department when he was arrested on federal gun charges after he was found with a semiautomatic pistol.  He was sentenced to 27 months in prison but after being released from prison he was handed a modelling contract. Mr Jordan, from White Cross Talent Management said that Meeks had a work visa and was given a letter by his parole officer. He said they arrived from LA and approached customs together and they stamped his passport but after looking at Meeks' documents he was pulled to one side.
Mr Jordan and Melissa Meeks waited for five hours at a restaurant in the airport before they were told that Jeremy would be flying back to the US.  Mr Jordan now plans to visit the US Embassy for help.
He added: 'He was on the right track for what we feel was going to be his new life. Now he's very sad. Hopefully this is just a setback and he will be able to come back from this.'