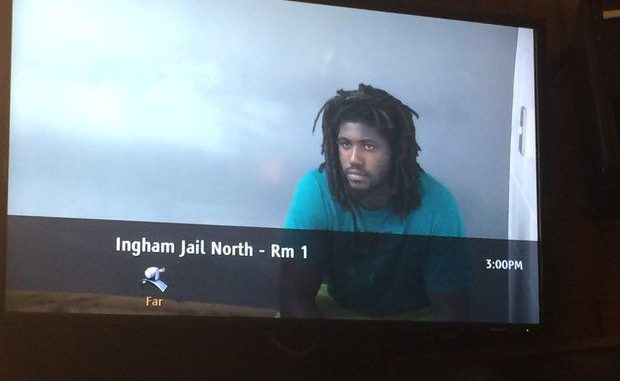 By Kyle Austin
MASON — Former Michigan State football player Auston Robertson is housed in Ingham County Jail on a $250,0000 bond after being arraigned on Tuesday afternoon for a charge of third degree criminal sexual conduct.
The charge, issued on Friday morning, stems from an alleged April 9 incident during which police say Robertson followed a woman into her apartment in Meridian Township and sexually assaulted her.
Robertson was arrested at around 5:50 p.m. on Saturday at his mother's house in Fort Wayne, Indiana, by U.S. Marshals, according to Meridian Township Police. He was extradited back to the Lansing area on Tuesday morning to be arraigned.
Timeline of key events in Michigan State football sexual assault investigations
Three MSU football players are under investigation, and one staff member has been suspended in one case. In another, a suspended MSU football player has been charged with criminal sexual conduct.
He took part in the arraignment via videoconference from the Ingham County Jail, during which 55th District Court magistrate Mark Blumer set a bond of $250,000. Robertson can be released from jail if he posts 10 percent of that, or $25,000.
Blumer had originally set a bond of $75,000 on Friday morning when he authorized the arrest warrant. He increased it on Tuesday, saying he considered Robertson leaving the Lansing area for Fort Wayne last week to be flight from prosecution.
Robertson's attorney, David Rosenberg, said he worked with police agencies for Robertson to turn himself in before the arrest and that he doesn't consider his client to be a flight risk.
Rosenberg declined to address the version of events offered by police of the alleged assault in court on Friday, but said he has investigators interviewing witnesses and he and his colleagues would "do our best to mount a strong defense."
Should he make bail, Rosenberg said it would be prudent for Robertson to not return to his housing on Michigan State's campus due to the fact that he's received "a number of threats from erstwhile friends in the student body." Rosenberg declined after the hearing to provide more details about those threats.
Robertson has a pre-exam conference set for May 4 and a preliminary examination set for May 11, during which Judge Thomas P. Boyd will determine if his case will be bound over to circuit court.
Robetson played in seven games last year on the defensive line for Michigan State as a true freshman. He was dismissed from the football team on Friday by coach Mark Dantonio, but continues to be enrolled at Michigan State, according to a school spokesperson.
Source  www.mlive.com