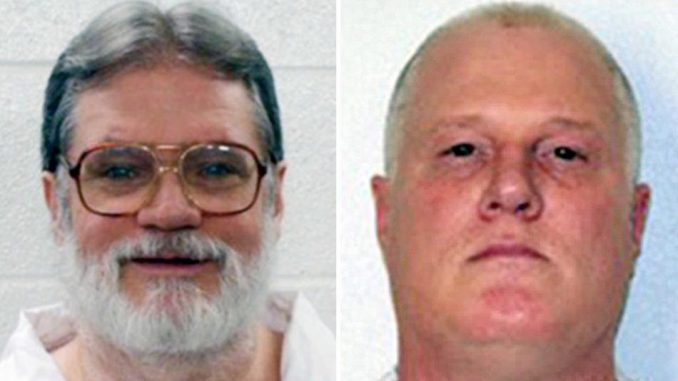 The Arkansas' Supreme Court has halted two executions hours before they were scheduled to take place on Monday.
In a 4-3 decision, Arkansas' highest court stayed the executions of Don Davis and Bruce Ward, who have each spent more than 20 years on death row. Their lawyers had raised questions about their mental competency.
The Arkansas Supreme Court granted a request from attorneys for Don Davis and Bruce Ward, who wanted stays of executions while the U.S. Supreme Court takes up a separate case next week involving defendants' access to independent mental health experts.
Another stay is in place for Ward, whose attorneys say he is too mentally ill to be executed.
"There will be no executions tonight. We are deeply grateful that the Arkansas Supreme Court has issued stays of execution for Bruce Ward and Don Davis," Scott Braden, assistant federal defender in Arkansas, said in an email statement.
State Attorney General Leslie Rutledge said she would immediately appeal to the U.S. Supreme Court. Her initial statement on Twitter was "I will appeal Bruce Ward and Don Davis' stays of execution granted by the State Supreme Court to #SCOTUS this evening."
However, later her office said she wouldn't appeal Ward's stay "at this time."
Don Davis and Bruce Ward were being held in cells near the state's death chamber and their execution warrants expire at midnight (0500 GMT Tuesday).
Gov. Asa Hutchinson criticized the state Supreme Court for sparing the two men.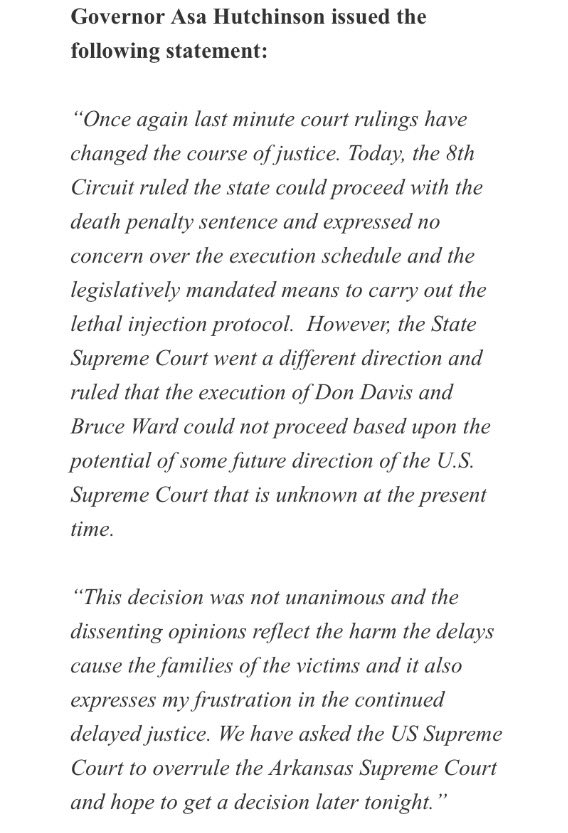 Meanwhile a federal appeals court has court lifted stays by removing a decision that blocked Arkansas' original plan to execute eight prisoners in an 11-day period. The 8th U.S. Circuit Court of Appeals in St. Louis vacated a decision made over the weekend by a federal district judge that halted all eight executions.
U.S. District Judge Kristine Baker, in a 101-page ruling, found the state's plan would deny the inmates their legal rights by depriving them of adequate counsel because prison officials allow only a single lawyer to be present for any execution. The ruling also raised questions about whether one of them, midazolam, was effective enough at preventing pain during executions.
Arkansas employs potassium chloride in combination with vecuronium bromide and midazolam. The latter drug is intended to render the inmate unconscious before the other two chemicals are administered to paralyze the lungs and stop the heart.
The 8th U.S. Circuit Court of Appeals Justices granted the state's motion to lift the temporary restraining order prohibiting the state from using its supply of vecuronium bromide, one of three drugs used in the lethal injection protocol. A medical supply company said it was misled by the state and that the drug was sold to be used for medical purposes, not executions.
In the 8th U.S. Circuit Court of Appeals ruling it also said the inmates had ample time already to file objections to the execution protocol, and only acted at the last minute. Judge Jane Kelly, in a dissent, argued the the case was about more than which drugs are used to put inmates to death, and questioned whether Arkansas was in line with the Eight Amendment's "evolving standards of decency."
Attorneys for the eight are likely to appeal the federal court's decision to the U.S. Supreme Court. They filed a separate petition for stays on Monday with the U.S. Supreme Court over a procedural matter.
The next executions are scheduled for Thursday. Arkansas said it would go ahead with its plans to execute the remaining six inmates, through dual executions on Thursday, April 24 and April 27.
The state has said it had to act quickly because one of the drugs in its difficult-to-obtain lethal injection mix, the valium-like sedative midazolam, expires at the end of April.
The state also argued that U.S. District Judge Kristine Baker abused her discretion on Saturday when she ruled about potential harm from midazolam. The drug has been used in flawed executions in Oklahoma and Arizona. Critics contend it does not put a person in a deep enough state of unconsciousness and should not be used in executions.
In 2014, Oklahoma was the last state to attempt two executions on the same night, an event that has not happened since Texas held a dual execution in 2000.
In Oklahoma's first execution, a poorly secured intravenous tube popped out, lethal-injection chemicals sprayed out in the death chamber and staff said the pressure of dual executions exposed flaws. The second execution was cancelled.
The legal fight in Arkansas, which has not held an execution in 12 years, comes after U.S. executions fell to a quarter-century low in 2016 and as capital punishment in several states was delayed by problems with lethal injection drugs and legal questions over their protocols.