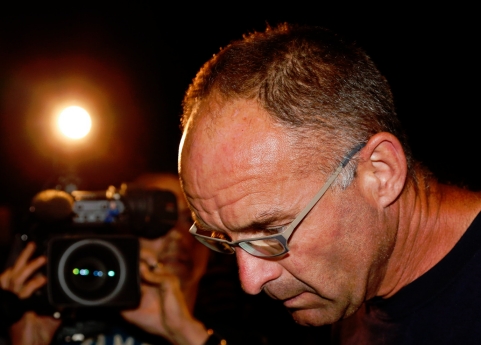 Jurors heard more evidence Wednesday about the hundreds of items police seized from Douglas Garland's property, including a half-empty bottle of chloroform.  Const. Ian Oxton, in his second day on the witness stand, told the three-woman, 11-man jury he also found a pair of child-sized handcuffs and about 50 adult diapers, among the pieces of evidence seized from the sprawling acreage Garland shared with his elderly parents.
"I believe these to be handcuffs that we generally use to restrain children, youths and small adults," Oxton said, holding up a pair of cuffs for the jury to view.
Garland, 56, faces three charges of first-degree murder in connection with the disappearance of a Calgary couple and their grandson.
Alvin, 66, and Kathy Liknes, 53, and grandson Nathan O'Brien, 5, disappeared June 30, 2014, from the couple's Parkhill home in southwest Calgary.
Their bodies have never been found.
It's the Crown's theory Garland violently kidnapped the trio from the grandparents home and took them to his farm and murdered them.
Oxton, who on Tuesday detailed items found in and around three outbuildings and the basement of the Garland home, said he spent hundreds of hours going through ashes found in a burn pit on the property.
He said six barrels of ashes were taken from the scene and carefully sifted through to find potential evidence in the case.
Oxton spent about 550 hours over 10 months removing items of interest from the ashes "included in that material was 17 fragments that could be teeth," he said.
He also found "items of jewelry," an earring, a small bracelet and "buttons for clothing."
The two-car garage was jam packed with "a very large amount of chemicals and chemical apparatus," said Oxton.
"A wide-range of chemicals and chemical compounds," he told Crown prosecutor Shane Parker.
"Was insulin found?" Parker asked.
"Yes, I believe it was in the southwest corner," he said, as jurors viewed photographs of the garage.
"A bottle of chloroform was found roughly in the centre of the garage," Oxton said.
The 950 ml bottle "was approximately half empty."
Oxton said police removed 83 pairs of shoes from the residence, concentrating on sizes 12 and 13, but none matched bloody footprints found in the Liknes home.
Inside a bedroom in the main level of the Garland bungalow the forensic crime scenes unit officer also found other items of interest.
Oxton seized two Tyvek suits, the kind police use when searching crime scenes to avoid contamination, rubber gloves and chemical gloves and a rain suit from the room.
He also found a booklet in the room titled Handbook of Poisoning.
In an outbuilding at the south end of the 40-acre farm was a bag containing about 50 adult diapers from the Foothills hospital, a bag of mixed male and female clothing and a box containing leather restraints and handcuffs.
Oxton testified Tuesday about finding similar items in another building on the property, along with a hacksaw and two blades, two meat hooks, knives, firearms components and ammunition.
His testimony continues on Thursday when he will be cross-examined by the defence.
By: KEVIN MARTIN
Source:  cnews.canoe.com