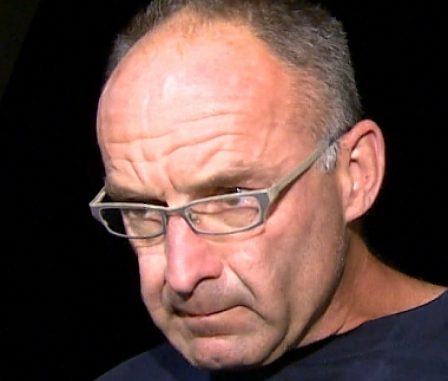 Less than 12 hours after Jennifer O'Brien left her son at her parents' Calgary home on the night of June 29, locking the door behind her, she returned to find the same door open, the house splattered with blood and her family missing. Investigators soon found small drill holes in the door lock, which was later determined to have been tampered with, according to the testimony of a master locksmith. Earlier in the trial, the prosecution told jurors they would hear evidence that Garland had been researching the exact same lock found to have been tampered with.
Nathan O'Brien, 5, had been sleeping over at the home of his grandparents — Kathy Liknes, 53, and Alvin Liknes, 66 — on June 30, 2014, when the three disappeared.
After a two-week search, the Amber Alert was called off for the boy, and Garland was charged with three counts of murder.
Seventeen days before the family disappeared, there is evidence Garland began to research the Schlage BE365 — the same type of lock on the Liknes's side door found with drill marks in it, said Crown prosecutor Vicki Faulkner in her opening statement.
"It will show research he did on all things lock picking," said Faulkner.
Locksmith Monte Salway testified that the door lock had been tampered with.
Salway is a master locksmith from Indiana who works for Schlage and teaches locksmith instructors. The first thing he noticed was that the keyhole on the Liknes's side door lock was at a 90-degree angle from where it should have been.
Two drill marks were also visible — one of which would have caused the door to unlock, said Salway.
The Liknes's side-door lock was the only one the Calgary Police Service asked Salway to examine, he told defence lawyer Jim Lutz in cross-examination.
Jurors also heard evidence that an internet router in the Liknes's home was disabled sometime between 2:10 a.m. and 8:10 a.m.
"I considered that unusual," said Const. Brian Clark with Calgary police's cyber investigations team.
Routers synch with service providers every six hours. The Liknes's router synched at 2:10 a.m. on June 30, but six hours later it did not.
All other electronics in the home were still on.
Clark confirmed under cross-examination that he did not know the Likneses and was not aware if it may have been their habit to turn their router off.
Blood, teeth, bones sent for examination
On Wednesday, jurors heard evidence from one of the forensic crime scene investigators who seized teeth, bloodied items, including bedding, and sent it to labs for further analysis.
The Liknes's home was covered in blood — pools of blood in some areas, footprints, smears, drag marks and drips in others.
Bits of bone from six barrels of ashes gathered at a burn pit on the Garland property were also collected and sent for testing by Const. Derek Alexon.
Liknes home
Bloodstains were found in many parts of the Calgary home of Alvin and Kathy Liknes after they and their grandson were reported missing, a police officer told court Wednesday. (Court exhibit)
Years-long grudge ​
At the time of the family's disappearance, Garland was living with his parents on their rural property just north of Calgary.
The Crown's theory is that the bodies of the Likneses and Nathan were burned in a barrel on the Garland farm.
Garland is connected to the Liknes family through his sister Patti, who was in a common-law relationship with Alvin Liknes's son, Allen.
Garland's sister and his parents testified as Crown witnesses on Tuesday, telling jurors of a years-long grudge Garland had against Alvin Liknes because of a short-lived business relationship that soured.
Forensic analysis of Garland's computer hard drive will be presented as evidence, showing someone researched topics such as "how to kill without emotion," torture and autopsies, said Faulkner.
Jurors also heard that DNA evidence from the missing family members was found on a saw and meat hooks owned by Garland, and bones and a tiny tooth were discovered in a large burn barrel on the Garland farm.
Through what Faulkner described as "dumb luck," a mapping plane that flew over the property on July 1 and 2, 2014, took photographs that show what the Crown believes to be three bodies in the grass.
Garland, 56, went on trial beginning Monday on three counts of first-degree murder. The bodies of the family members have never been found. He has pleaded not guilty.
The trial is being heard by Court of Queen's Bench Justice David Gates and a jury of 14 members.
It has been scheduled for five weeks.
By Meghan Grant