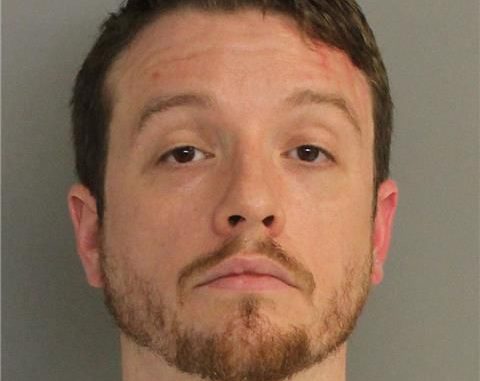 AIKEN — Dramatic 911 recordings featuring the pleading and screaming voices of a South Carolina lawmaker's two small children were released Friday by the Aiken County Sheriff's Office, shedding new light on the domestic violence arrest of state Rep. Chris Corley this week.  In the recordings, the lawmaker's children can be heard screaming in the background as a caller – presumably Corley's wife, based on an incident report – dialed 911 for help.
"Daddy, please stop it, please," a little girl can be heard screaming, repeatedly. "Daddy … just stop it, please!"
"I had a caller … sounded like children screaming for, for, for help, begging for their father to stop," one dispatcher can be heard saying to another, stammering. "I'm pinging them in the area of 118 Sugar Hill Drive."
In another 911 call – presumably from Corley's mother-in-law who lives across the street from the couple in Graniteville – a woman calmly gives authorities additional chilling details.
"Don't get in front of the window," the woman can be heard saying as she spoke to a dispatcher. "He hit his wife … He beat his wife and he's threatening to kill hisself (sic)."
The dispatcher then asked if Corley had "any weapons" at the time.
"Yes, he does," the woman answered. "It's a gun." None of the callers are formally identified by name.
Dashboard video recordings also released by the Aiken sheriff's department show a pair of cruisers driving in the dark to Corley's residence but little else. In one of the videos, what sounds like a calm, collected Corley can be heard trying to explain himself to officers, but the audio is too choppy to understand.
Serious charges
Corley, 36, a Republican, was arrested Tuesday and has been charged with first-degree criminal domestic violence, a felony, and pointing and presenting a firearm at his wife while two of his three children watched. His children ages 2 and 8 apparently witnessed the entire incident.  The lawmaker has been released on a $20,000 bond, but a judge warned him to stay away from his wife and refrain from carrying a gun. Corley, an attorney, is only permitted to travel to and from his job in Augusta, Ga. His future in the South Carolina Legislature remains uncertain.
According to a police report, Corley's wife had accused the legislator of being unfaithful, and an argument between the couple turned physical.
"(Corley) stated that he and (his wife) got into a verbal argument because the victim thought (Corley) was cheating on her," a police report states. "(Corley) stated the victim attempted to strike him in the face with her fist, and he pushed the victim off of him."
In the incident report, officers noted that Corley had "red marks" on his forehead. It is not clear if Corley's wife had any visible signs of injury, but she told officers that Corley stopped attacking her when "he noticed the blood coming from (his wife's) head," according to the police report.  The report shows that deputies arrived shortly before 10 p.m. on Monday but didn't arrest Corley until the following morning at 1:15. Corley is due in an Aiken County courtroom in February, records show.  Capt. Eric Abdullah, an Aiken County sheriff's spokesman, said Friday that authorities had not been summoned to the Corley's residence on a disturbance call before Monday.
Early in his career, Corley shared some of his views on domestic violence. In a December 2014 interview with the Aiken Standard, Corley said he didn't know if the government could completely fix the state's domestic violence issue. For years, South Carolina has ranked among the nation's deadliest states for women killed at the hands of men.
"As far as what we can do as the government, you know, stiffer mandatory penalties," he said at the time. "I don't know that saying you can't have a gun because you get convicted of domestic violence, I don't know if that's going to stop someone from future domestic violence."
Corley did vote to support the state's sweeping domestic violence law that passed in 2015, which included a partial gun ban. The law has provisions to strip the most egregious abusers of gun rights. Severe crimes carry a lifetime gun ban, while the second-most severe offense would carry a 10-year ban.
Meanwhile, one of Aiken County's most vocal advocates against domestic violence called for Corley to resign. Susan Selden, director of the Cumbee Center to Assist Abused Persons, said Corley's position in public office is a detriment.
"It sets a bad example for him to remain as a legislator while he's being investigated for this," she told The Aiken Standard.
Caroline Delleney, spokeswoman for S.C. House Speaker Jay Lucas, R-Hartsville, told media this week that Lucas is aware of the charges against Corley and is monitoring the situation.
"If and when an indictment is issued, the speaker will take the necessary action to comply with the law and maintain the dignity of the House of Representatives," his statement said. A felony indictment would trigger Corley's automatic suspension from the House of Representatives.
When Selden heard Corley was jailed on a domestic violence charge, she said she was surprised, but not completely shocked.
"I am very disappointed, and as a leader, we expect higher standards from him," she said. "Especially because he voted for these new (domestic violence) laws."
Source  postandcourier.com