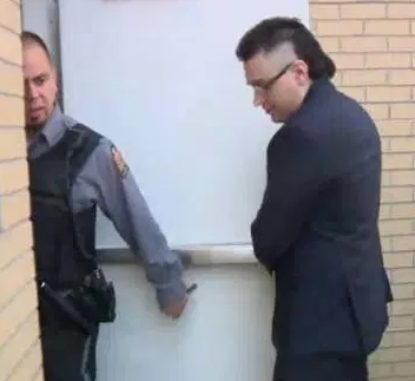 BY: TONY BLAIS
A full-patch member and boss of the White Boy Posse street gang was convicted of manslaughter by an Edmonton jury Tuesday for his part in the 2012 fatal ambush of a Lloydminster man.
Josh Petrin, a 33-year-old gangster who is already serving a life sentence for a mistaken-identity killing in Saskatoon, appeared upset after the 5:30 p.m. verdict by the seven women and five men on the jury was delivered following one day of deliberation.
Petrin had been charged with first-degree murder for the Sept. 25, 2012, shooting of Bryan Gower, 35, and jurors heard testimony that he had directed two White Boy Posse (WBP) affiliates to carry out the slaying and had supplied one of the killers with a gun; however, the jury found him guilty of the lesser offence of manslaughter.
Gower's family, who attended the entire five-day trial, said they were "just glad" it is over and they will provide victim impact statements for Petrin's sentencing, which will be scheduled Jan. 20.
However, the victim's father, Walter Newman, said he feels Petrin got away with just a "slap on the wrist." Gower's sister, Tracy, also added that, while her brother was a drug addict, he was much more than that to his family.
The jury heard WBP affiliates Kyle Halbauer and Randy O'Hagan ambushed Gower after luring him to a supposed drug deal outside Lloydminster where Halbauer shot Gower in the head with a .357 Magnum. Both men are serving life sentences for the murder.
The jury also heard from both Halbauer and Petrin's ex-girlfriend, Karissa Dow, that Petrin met with Halbauer near Lloydminster a few days before the killing and Halbauer testified Petrin supplied him with an AR-10 assault rifle and said it would help in his "mission."
Halbauer also testified Petrin had directed in encrypted BlackBerry messages that Gower be killed for causing problems for drug runners with the gang, although he conceded that the supposed instructions simply said to "teach him a lesson."
Petrin was sentenced to life in prison with no chance of parole for 25 years after being convicted of first-degree murder in early November for the mistaken identity killing of Lorry Anne Santos, a 33-year-old mother of four who was shot and killed after she opened her door to strangers in Saskatoon on Sept. 12, 2012. Police said the gunmen had gone to the wrong house.
Petrin, who was also convicted at the same time of conspiracy to commit murder, was found to have set up the shooting. Court heard he wanted his former right-hand man killed for leaving the gang with money and drugs; however, they went to the wrong address.
Petrin is scheduled to go to trial in May on a charge of second-degree murder for the Dec. 7, 2008, fatal shooting of Mitchell Chambers, 23, in southwest Edmonton.
In an opening statement at Petrin's trial for Gower's killing, Crown prosecutor Jeff Rudiak told the jury that the WBP was "very busy" during the summer of 2012 expanding their drug business.
Rudiak also told jurors Petrin had directed two gang affiliates to "blast" two drug dealers in Lloydminster he was upset with and said police had seized texts saying Petrin wanted a man named Bob Roth Sr. "bumped off" over $160,000 worth of drugs going missing.
Roth was killed and beheaded. His body was discovered in the community of Ranfurly on Oct. 20, 2012, and his head was found in an Edmonton alley four days later.
Petrin was not charged in Roth's killing, but WBP affiliate Nikolas Nowytzkyj later pleaded guilty to manslaughter in connection with the slaying and was sentenced to 20 years in prison.
Source: Edmonton Sun