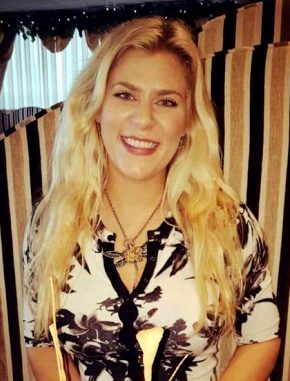 By: Andy Rutherford
A MULTI-millionaire Gwent businessman strangled his lover after eavesdropping on a telephone call in which she told a friend she was planning to leave him, it was alleged in court.
Newport Crown Court was told that Peter Morgan strangled 25-year-old mother-of-one Georgina Symonds with baling twine last January, at a bungalow of his that she was living in, at Pencoed Castle, near Llanmartin.
The prosecution alleges that Morgan killed Miss Symonds on January 12 in a "pre-meditated and well planned" act that he then sought to cover up.
It is alleged that he then wrapped her body in plastic sheeting and stashed it in a workshop at another property he owned – Beech Hill Farm, near Usk.
When her body was discovered the following day by police, the twine was still around her neck.
Prosecuting counsel William Hughes QC told the jury that Miss Symonds had met Morgan, of Llanellen Court Farm, Llanellen, near Abergavenny, while she worked as an escort and he became a client.
The relationship had developed from a professional one into a personal one, and Morgan had, said Mr Hughes "lavished" gifts on Miss Symonds, spending many thousands of pounds on her.
However, he "wanted exceptionality – he did not want her to see other clients," said Mr Hughes.
Morgan gave her £5,000-£7,000 a month and in August 2015 allowed her to live at Pencoed Castle Bungalow but, said Mr Hughes, a close friend of Miss Symonds alleges that Morgan was granted more control over her once they began to spend more time together.
Miss Symond's failure to pick up her daughter from school on January 12 led to a friend and members of her family meeting Morgan at the bungalow that evening.
Morgan had rung Miss Symonds mobile three times but got no reply, and then "suggested looking in trees in the grounds," said Mr Hughes.
"He suggested she told him a few times that she was going to hang herself."
She was reported missing at 8.15pm that night and when police attended the bungalow they checked Morgan's phone with specialist equipment that revealed it had been registering from a mast in the Usk area earlier that day.
"Peter Morgan initially informed them (the police) that Miss Symonds may have gone to his ex-wife's to confront her over something, but he could not give a reason why she might do that," said Mr Hughes.
"Within a short time he changed his account very significantly. He informed them that he had taken her mobile phone from her earlier in the day to prevent her from buying drugs.
"He had continued with a charade up to that point.
"He said he had placed the phone in his Porsche sports car at Llanellen, and said he had taken it without Miss Symond's knowledge.
"The police asked him why he had called her phone when he knew where it was. He shrugged and implied that he needed to be seen to be making an effort."
After providing an account of his movements that day, said Mr Hughes, Morgan took police to Llanellen Court Farm to recover the phone and he then agreed to accompany officers to Maindee police station in Newport.
Mr Hughes told the court that it was there, in the early hours of January 13, that Morgan told officers: "I can't take this. I need to tell you that I strangled her this morning and took her body to Beech Hill Farm. She is in a building there. I loved her so much."
When keys were removed from him after his arrest, he allegedly told police: "You will need those keys. She is locked in an outbuilding."
Mr Hughes added that later that day at Ystrad Mynach police station Morgan, when asked if he wanted legal representation, replied: "No. I have done it, so there is no point."
Police later found Miss Symonds' body as Morgan had described, in a workshop at Beech Hill Farm, bound and wrapped in plastic sheeting.
"The ligature was still around her neck when the post-mortem examination was done," said Mr Hughes.
The jury was also told that a listening device that resembled a multi socket plug, equipped with a SIM card, was found at Pencoed Castle Bungalow that allowed a third party to ring in and listen to what was going on nearby.
"This may be indicative of Peter Morgan's increasing wish to monitor Miss Symonds, perhaps to the point of obsession," said Mr Hughes.
This, said Mr Hughes, had been called with increasing regularity once installed. The first contact was in November last year, and the last shortly before 2am on the day Miss Symonds died.
"In a police interview, Mr Morgan said he had overheard Miss Symonds having a conversation with someone and she mentioned that once she got Mr Morgan to sign the bungalow over, she was going to leave him and carry on working as an escort, and was going to "fleece him" – his words," said Mr Hughes.
The court was also told by Mr Hughes that Thomas Balinger – with whom Miss Symonds was having a "casual relationship" – had a lengthy conversation with her on January 10, during which she discussed the signing over of the bungalow and her intention to leave Morgan and resume her escort work.
"It is a reasonable inference to draw that the subject matter has been a possible catalyst for the chain of events that ultimately led to Miss Symond's death," said Mr Hughes.
Morgan is charged with the murder of Miss Symonds, and has pleaded not guilty.
Source:  South Wales Argus