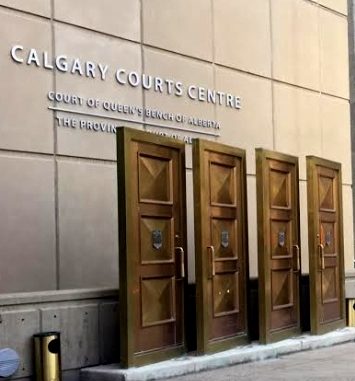 By: Bill Graveland
Closing arguments are expected today in a sexual assault retrial that was ordered after controversial comments by a judge during the initial trial.
Alexander Wagar, 29, was acquitted in 2014 by Judge Robin Camp, who ruled Wagar was a more credible witness than the 19-year-old complainant.
Camp called the complainant "the accused" throughout that trial and asked her why she couldn't just keep her knees together. He also told her "pain and sex sometimes go together."
The verdict was overturned on appeal and a new trial was ordered. The case is now being heard by Judge Jerry LeGrandeur.
The current trial has heard from both the complainant and the accused.
The complainant, who is now 24, told court she had been living in homeless shelters and had alcohol and drug addictions. She was at a party in a Calgary home when the alleged assault occurred in December 2011.
She said Wagar had been "flirty" and was making it clear he wanted to have sex with her. Later, when she was in the bathroom, Wagar came in, locked the door and ripped her clothes off, she said. The sexual assault lasted 15 to 20 minutes, she said.
"I told him to stop," she told court. "I was scared. I was very drunk."
Wagar testified that the sex was consensual. He said the two had been smoking pot in the bathroom before it happened and he decided to "go for it."
"She didn't shy away from me in any shape or form," he said. "She said she liked me."
Wagar said he would never force himself on a woman.
"If she would have said 'no,' I would have stopped," he said. "My mother put it in my mind since I was a kid that if a woman says 'no,' it means no."
Under cross-examination, Wagar acknowledged the complainant "never said 'yes' directly."
LeGrandeur decided before an adjournment earlier this month to allow testimony from the first trial of a woman who was at the party. He is doing so because the defence has not been able to find her.
He said it was reasonably necessary to have the earlier testimony to come to a fair verdict.
Camp is now a judge on the Federal Court. A panel of the Canadian Judicial Council is deciding whether to recommend he should be removed from the bench for his comments.
Source: Globe and Mail