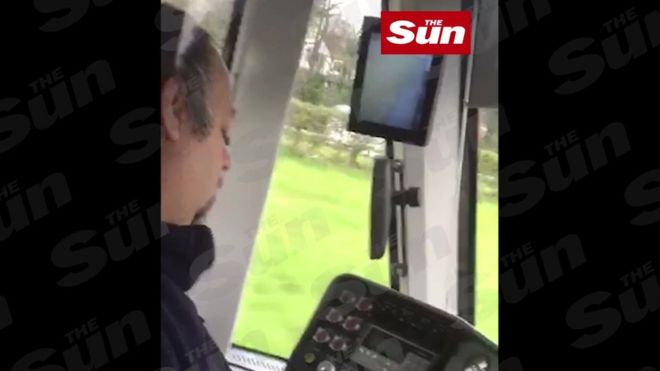 A passenger says he was "incredulous" after spotting the driver with his eyes closed as the tram travelled at around 40mph.
Investigators are looking at footage showing a tram driver with his eyes closed at the controls on the same track as the fatal Croydon crash.
The recording was made as the tram travelled between Coombe Lane and Gravel Hill, having already gone through a bend near Sandilands station.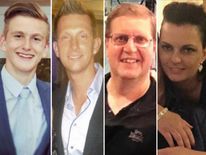 It was on this section of track that a tram derailed on 9 November,killing seven people and injuring more than 50.
FirstGroup says it has suspended the driver in the footage, pending the outcome of an investigation.
The passenger who made the recording said he was "incredulous" after spotting the driver struggling to remain upright in his seat.
"It was the most surreal thing because the tram is zooming along and the driver seems to be falling asleep," he told The Sun.

"It seemed like he had perfected the art and knew when the next stop was approaching to wake up.

"He reminded me of someone who dozes off in a meeting – except if you doze off in a meeting you are not killing anyone."
It has been estimated that the tram was travelling at more than 40mph at the time the footage was filmed at 6pm on 14 April.
The passenger added: "If you are in charge of 50 plus lives and you are that exhausted its quite a dangerous thing. He would nod off and then jolt back up near the stops.

"Perhaps he'd had a really long day. It's a downhill stretch and it felt to me like the tram was going too fast."
Transport for London says it is investigating the footage.
A spokesperson said: "(We) have asked First Group, who operate the tram network, to take all necessary action and report back to us as soon as possible."

In a statement, FirstGroup said: "If the situation is as it appears then this is completely unacceptable and appropriate action will be taken."

A spokesman told Sky News that drivers regularly undergo medical testing, as well as random drug and alcohol screening.

He added that drivers are also monitored "for possible fatigue".
British Transport Police says it is aware of the footage and is "looking into the circumstances of the incident".
SKY NEWS THE SUN