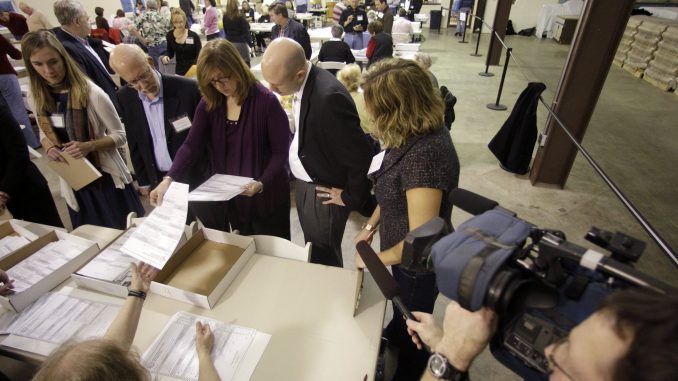 WASHINGTON — Personnel from the US Justice Department's civil-rights division will be deployed to polling sites in 28 states to monitor Tuesday's election.
Attorney General Loretta E. Lynch said, "Our personnel will perform these duties impartially, with one goal in mind: to see to it that every eligible voter can participate in our elections to the full extent that federal law provides.  The department is deeply committed to the fair and unbiased application of our voting-rights laws, and we will work tirelessly to ensure that every eligible person that wants to do so is able to cast a ballot."
Most of those states will receive Justice Department staff members who have no statutory authority to access polling sites as a result of a 2013 Supreme Court decision that struck down parts of the Voting Rights Act, curtailing the department's ability to deploy election observers with unfettered access to the polls.
Tuesday's election will be the first in decades in which the Justice Department can send full-access observers only to states where a federal court ruling has authorized it.
Courts have granted the Justice Department permission to deploy full-access observers in five states: Alaska, California, Louisiana, New York, and Alabama. But the court order for Alabama pertains only to municipal elections and is not on the list of states where the Justice Department is deploying poll watchers this year.
The Justice Department staff who are deployed to the other 24 states on Tuesday will be election "monitors," who must rely on local and state authorities to grant them access to polling locations.
Vanita Gupta, head of the department's civil-rights division, said, "In most cases, voters on the ground will see very little practical difference between monitors and observers,"
Though the department will be overseeing more jurisdictions this year, it will be doing so with fewer people.
This Tuesday, the DOJ said more than 500 personnel would monitor elections in 67 jurisdictions in 28 states.
Some of the Voting Rights Act provisions personnel will be monitoring include: not discriminating against voters based on their race, gender, or disability; providing minority languages if necessary; and complying with proper voter registration requirements.
The 28 states the DOJ is monitoring tomorrow are: Alaska, Arizona, California, Connecticut, Florida, Georgia, Illinois, Kansas, Louisiana, Massachusetts, Michigan, Missouri, Nebraska, Nevada, New Jersey, New Mexico, New York, North Carolina, North Dakota, Ohio, Pennsylvania, Rhode Island, South Dakota, Tennessee, Texas, Utah, Virginia, and Wisconsin.  Some have only one jurisdiction being watched, while others will have several.