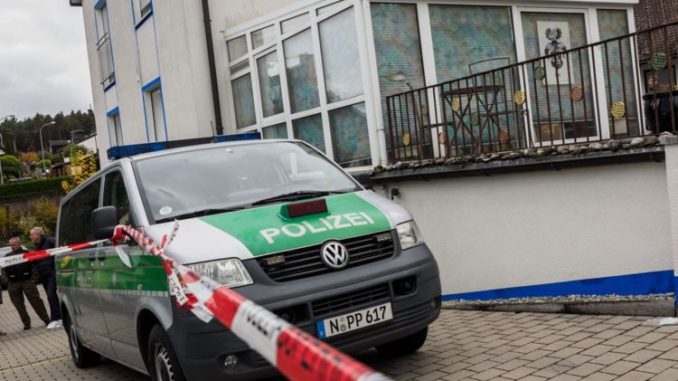 A police officer has died after being shot during a raid at the German home of a far-right extremist.
The 32-year-old officer was part of an armed response unit which was sent to seize firearms from a member of the far-right extremist group Citizens of the Reich and believes in the continued existence of the pre-war German empire. An interior ministry spokesman said the movement had a few hundred members spread across Germany and was seen as "fragmented".
Police said the officer was shot through the shoulder as he entered the suspect's home in Georgensgmuend, Bavaria.
The gunman, who shot another police officer in the arm, was detained.
Interior minister Thomas de Maiziere said the attack was "unbearable and unacceptable".
Police spokeswoman Elke Schoenwald said the officers were sent to confiscate more than 30 weapons from the gunman because he had been ruled psychologically "unsound".
He had previously refused to allow officials access to check his arsenal and take away the firearms, Ms Schoenwald added.
Joachim Herrmann, the interior minister for Bavaria, has called for members of the Citizens of the Reich to be banned from owning weapons.
He said the movement had been under "intensive observation" by his state's branch of the domestic intelligence agency because parts of it have "far-right aims".
In a report by Berlin's state intelligence service, the Citizens of the Reich was described as "an extremely diverse range of small groups and individuals who believe in an ideological mixture of conspiracy theories, anti-Semitic and anti-democratic views".
The report added that those involved with the group "have been behaving increasingly aggressively for some time".
In August one of its members opened fire on police carrying out an eviction order at his house in the eastern state of Saxony-Anhalt. The 41-year-old gunman was seriously wounded and three police officers suffered minor injuries.