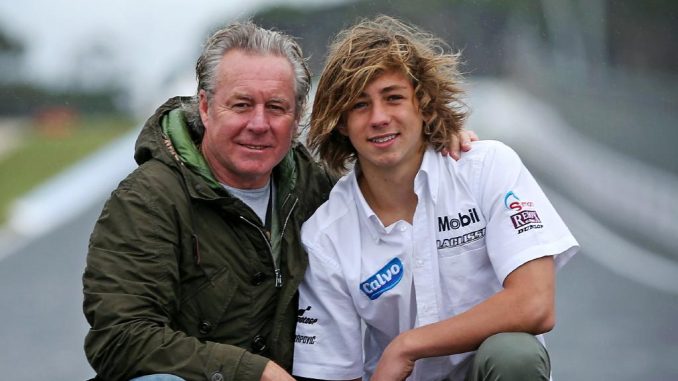 Former motorcycle racing champion Wayne Gardner was arrested at the Japan Grand Prix over an alleged road-rage incident.
The 57-year-old was reportedly questioned by Japanese police after being accused of assaulting three Tokyo men during a scuffle.
The 1987 500cc champion got into a heated dispute after his car scratched the men's vehicle near the Twin Ring Motegi circuit, police claimed.
The Australian motorcycle legend allegedly grabbed each of the men by the collar and pushed them around, a local police spokesman said.
'He was arrested on charges of assault inside the Twin Ring Motegi,' the police spokesman told AFP.
The incident occurred at the circuit where the championship was taking place.
Gardner denied the allegations, claiming he was only trying to disengage himself from one of the men who had grabbed his body, the Yomiuri Shimbun daily reported.
The father had arrived at the race tracks to watch his 18-year-old son Remy compete in the Moto2 event.
Gardner is a legendary road racer, with four victories at the Suzuka Eight Hours motorcycle endurance race in addition to the 1987 500cc world championship.