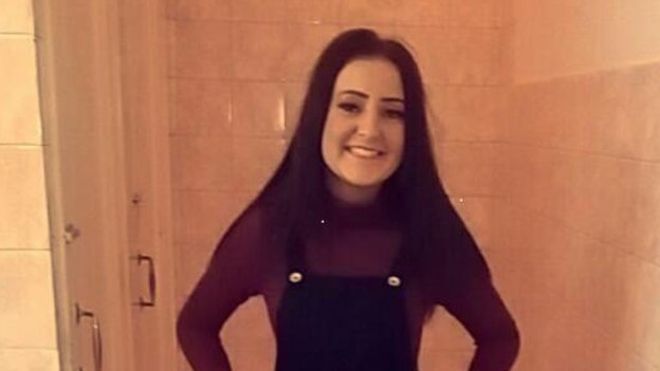 John Leathem, 32, has been jailed for a minimum of 27 years for the "frenzied" knife murder of 15-year-old Paige Doherty.
Leathem admitted killing the teenager at his deli in Clydebank, West Dunbartonshire, on 19 March. CCTV footage played in court showed Paige entering Delicious Deli at 08:21. Leathem is believed to have killed her shortly afterwards. Just 10 minutes after Paige entered the deli, the shutter to the front door was pulled down. Leathem later told the owner of a nearby hairdresser who had peered in that "the lassie didn't turn up" and he "had a nose bleed".
After collecting his car and parking it outside the deli, Leathem began his attempt to cover up the murder. CCTV images showed him running to neighbouring shops to buy bin bags and anti-bacterial wipes.
Paige's body was found two days later in a wooded area. She had more than 140 injuries and had been stabbed 61 times. Leathem claimed he panicked after Paige threatened to report him for sexual assault when he did not give her a job.
Judge Lady Rae set the minimum time he has to spend in jail at b27 years before becoming eligible to apply for parole.
The judge described Paige's death as a "savage and frenzied attack" and told Leathem: "What you did was truly reprehensible".
Lady Rae added: "It is impossible to comprehend how an apparently happily married man, with a young child, who is running a successful business, is capable of such an horrific level of violence. "Your mental state has been investigated, and there is no suggestion as far as I can determine, of any psychiatric or psychological explanation for what you did."
There were then angry scenes in the packed courtroom as he was lead handcuffed to the cells. One woman leaned over the dock and screamed in his face: "Why did you do it?" There were also repeated shouts of "beast", "monster" "scum" and "rot in hell".
Speaking outside court, Paige's mother Pamela Munro said: "Today we see a monster put behind bars for the unthinkable brutal crime he committed against our daughter Paige.
"There is no sentence high enough to justify what has happened but we can now say there is one less evil man in this world, which then makes the world that bit more safer for our kids to grow up in."
Ms Munro said that her family now had to "take each day at a time". "There is a huge piece missing in our family that can never be replaced," she said. "I am thankful for the 15 years we had with Paige – from the kind and generous wee soul she was, to the mature young woman she grew into."
"She may not be with us any more but she will live on through her brothers and sister and all the memories that we share."