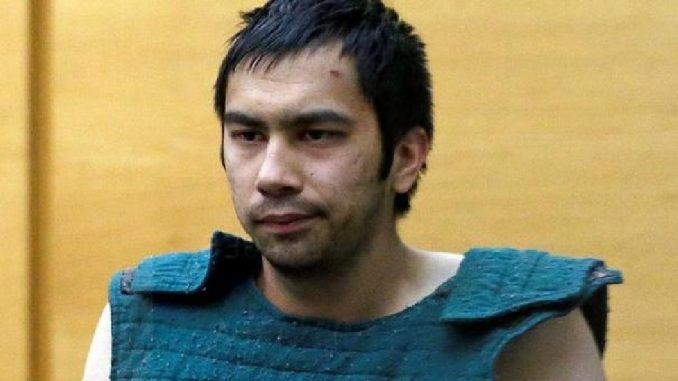 Aaron R. Ybarra, 27, of Mountlake Terrace, Washington, opened fire at Seattle Pacific University on June 5th, 2014 killing Paul Lee, 19, and injuring Sarah Williams, 19, and Thomas Fowler, 24.  The psychotic Seattle campus killer confessed that shooting his first victim was 'so fun' and that he felt nothing but hatred towards the world after his parents changed his bedroom furniture.
Ybarra  had stopped seeing a psychotherapist and taking his medication for OCD and psychosis before the attack: 'I wanted to feel my hate'.  He wanted to take hostages at Otto Miller Hall as part of a suicide mission, 'but I got caught instead'.
He was stopped by Jon Meis, building monitor, who pepper-sprayed him and grabbed the shotgun Ybarra was carrying, before helping another student hold him down until police arrived.
In the newly released video of police questioning Ybarra, he talked openly about his enjoyment at firing the first round.
'You're like, I can't believe that I'm doing this, but once you do it, you're like: "Oh my God, it's so fun."'
Ybarra described struggling with OCD and other mental health issues since he was a child.  He developed routines, including one that involved his bedroom furniture.  After his parents changed the furniture in his bedroom he became overcome with feelings of hatred.  Ybarra said that his compulsions went from good to evil.  He had been seeing a psychotherapist for OCD and transient psychosis, but stopped attending sessions and also stopped taking his prescriptions of Prozac and Risperdal.  He began drinking on a daily basis as a way of self medicating.
'I stopped because I was stubborn and I wanted to feel my hate. Plus I didn't think it was working… I was thinking "what's the point of being good when the world's against me." '
'I don't get respect from people, they don't take me seriously. When I was growing up people wouldn't take me seriously, they would laugh at me.'
Despite the statements made in the police interview, Ybarra has pleaded not guilty to first degree murder.  Join us here at Ybarra Trial to watch the live trial and join the chat.