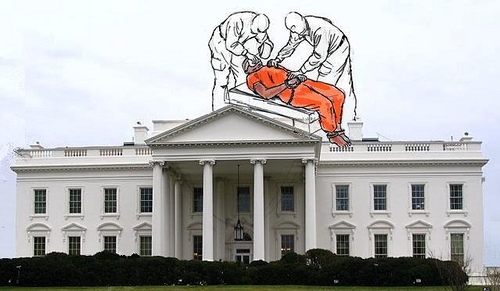 In what human rights advocates say is a vital step for accountability, a federal judge has ordered that former CIA officials may be deposed in a lawsuit against the developers of the agency's torture program,
The order, issued by U.S. District Court Senior Judge Justin Quackenbush earlier this week, rejected an attempt by the U.S. Department of Justice (DOJ) that would have protected the officials from oral questioning.  The deposition will be carried out as part of a discovery process for a case against the program's architects, psychologists James Mitchell and John  Jessen, brought by the American Civil Liberties Union (ACLU) on behalf of three men.  The suit alleges the three men were subjected to beatings, exposure to extreme temperature, sleep and food deprivation, and other abuses while in CIA custody.
Two of the officials are John Rizzo and Jose Rodriguez, who both held high-ranking positions in the agency at the time the torture program was being developed and implemented.
Rodriguez has also defended the CIA's torture of detainees and, while at the agency, authorized the use of certain tactics.
ACLU staff attorney Dror Ladin remarked: "This ruling is a critical step towards accountability, and it charts a way forward for torture victims to get their day in court. For years, claims of secrecy shut the courthouse doors to survivors, but the systematic abuse of prisoners can't be swept under the rug forever.  This order affirms that our judicial system can handle claims of CIA torture, including when those claims involve high-level government officials."
Last week, DOJ attorney Andrew Warden said, "It is, frankly, unprecedented…for the nation's top spy, the head of the National Clandestine Service to be deposed on operational information by a private party. I don't think that's ever happened in the history of this country."
The ACLU says the depositions may help provide additional information about the program, the organization says the evidence they need to win the case has already been made public through reports like the U.S. Senate Intelligence Committee's executive summary of its torture investigation.