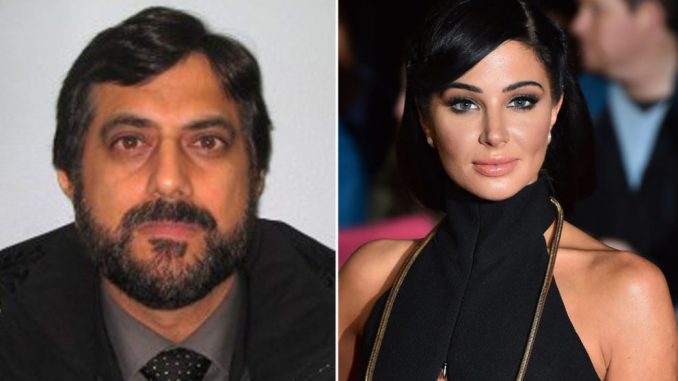 The undercover journalist known as the 'Fake Sheikh' and his driver have been found guilty of perverting the course of justice in the drugs trial of pop star Tulisa Contostavlos.
The jury at the two-week trial heard Mazher Mahmood plotted with Alan Smith to change a witness statement made to police, which led to the collapse of the trial in 2014.
Tulisa faced an allegation of supplying half an ounce of cocaine, following a story in the Sun on Sunday by 53-year-old Mahmood.
But the trial was thrown out after Smith, 67, changed his statement to remove comments she made expressing her disapproval of hard drugs.
She had allegedly said she had a family member with a drug problem as Mr Smith drove her home to Potters Bar in Hertfordshire after the meeting with Mahmood.
Speaking at the time of her trial in 2014, Tulisa told Sky News she felt helpless knowing what really happened.
"He (Mahmood) tried to conceal evidence that supported my case that I was anti-drugs.
"When you're set up it's made to look like no matter what you do or say like you're in the wrong… as much as I'm trying to tell people this isn't how it happened, look at me somebody, I'm standing in court thinking 'someone help me'."
The former N-Dubz star added: "Looking back, we don't know really who the real criminals are and aren't because just as he lied with me, how many other people has he lied with, how many other people are behind bars because of him, who don't deserve to be?".
Tulisa was at the height of her fame as an X Factor judge when she was targeted by the Fake Sheikh posing as a Bollywood film producer promising to fulfil her dreams.
She was flown to Las Vegas and offered a £3.5m role alongside Leonardo DiCaprio and then asked to supply Mahmood with drugs.
But the case against her collapsed in 2014 when the judge said Mahmood had lied under oath.
Both Mahmood and Smith declined to give evidence in the witness box at the Old Bailey.
Prosecutor Sarah Forshaw QC said in her closing speech: "If they were innocent men with nothing to hide, wouldn't they be shouting it from the rooftops?"
She told the jurors Mahmood's "ego" and desire to be the "swashbuckling hero" had motivated him to tamper with evidence in an attempt to ensure a conviction for Tulisa.
She said he wanted to prove to his colleagues at the Sun on Sunday that he "deserved his title of King of the Sting… the master of subterfuge".
In his book Confessions of the Fake Sheikh, Mahmood boasted his investigative reports for the News of the World and Sun on Sunday led to nearly 100 convictions. but now some of these are being appealed.
Lawyers for Pakistan fast bowler Mohammed Amir have told Sky Sports News they are considering an appeal after he pleaded guilty in 2010 to a case involving cheating and corrupt payments.
Seddons Solicitor Mark Lewis, who played a key role in the phone-hacking inquiry and is representing 18 such cases, said: "This is worse than phone hacking in a way because the devastating effect on people is they've lost their liberty, they've been sent to prison.
"Of course if you read the newspaper at the time you'd think that person who's been caught out deserves it because they seem to have done a crime.
"But what you don't know is that background to it, how they've been set up, how they've been drugged, plied with alcohol, how they've been effectively bribed to do something."
Journalist and newspaper editor Roy Greenslade, who was Mahmood's former boss at The Sunday Times, told Sky News it was ironic he was tripped up by a "routine investigation".
"He's gone after trivial stories involving high profile people and I think he's guilty very often of stimulating the crimes that he then reports on through the use of agent provocateur.
"There are many many instances where this has been exposed. It's ironic that a routine investigation would be the one to bring him down."
Judge Gerald Gordon adjourned sentencing until 21 October and allowed both defendants continued bail.
Sky News