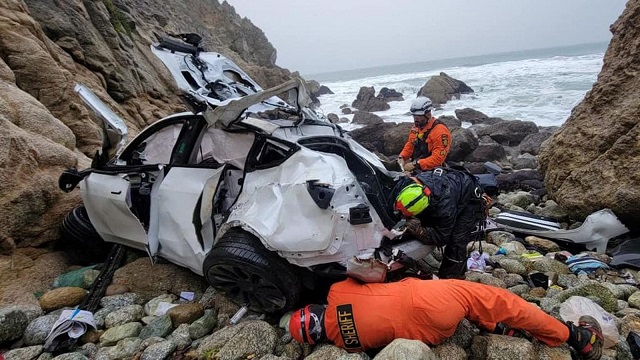 A doctor is facing attempted murder and child abuse charges after he "intentionally" drove his Tesla off a cliff with his family inside.
Dharmesh Patel was placed under arrest after being rescued from the destroyed vehicle at the bottom of a notoriously dangerous cliff, known as the Devil's Slide, near San Francisco.
His 41-year-old wife, seven-year-old daughter and four-year-old son, were also inside the car and managed to survive the 300ft (91m) plunge.
On Wednesday, Patel was said to be in a stable condition in hospital and due to be booked into the San Mateo County Jail in Redwood City, California, upon his release.
Initial reports suggested the Tesla may have been in full self-driving mode at the time of the incident, but police believe the crash was an "intentional act" by the 41-year-old radiologist.
Officers worked for three hours to carry out the rescue on Monday, with the children, who suffered minor injuries, saved first.
A helicopter was then used to hoist the adults, who were more seriously hurt, out of the mangled car.
"The children were secured properly in proper car seats, and the car seats were secured properly into the vehicle," battalion chief of the San Mateo-Santa Cruz Unit Brian Pottenger said.
"The car seats saved the lives of those two kids, in our opinion."
The Tesla driven by Patel was travelling on the main part of the roadway before it veered off the cliff, he continued, adding that the area regularly sees similar incidents.
The hospital where Patel works said it was "deeply saddened" by the crash, but also "extremely grateful" that the injuries caused were not more severe.
Source:  
news.sky.com