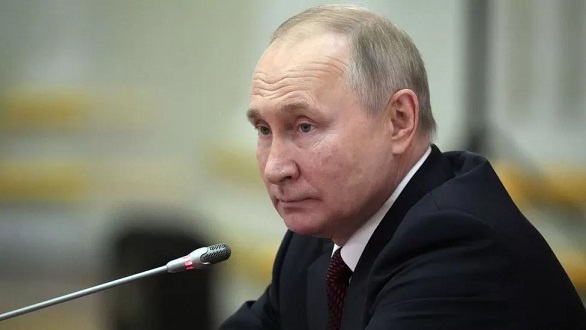 Russian President Vladimir Putin should go on trial in Ukraine this year for war crimes committed there, says the man who led the prosecution of former Serbian leader Slobodan Milosevic.
Sir Geoffrey Nice told the BBC Mr Putin was a "guilty man" for attacks on civilian targets during the war.
The British barrister expressed his surprise that prosecutors and politicians were not "spelling this out much more freely and openly".
Russia denies committing war crimes.
But, speaking to Radio 4's Broadcasting House programme, Sir Geoffrey described Moscow's actions during the invasion as "crimes against humanity" – as civilian targets were being attacked.
These laws ban attacks on civilians – or infrastructure vital to their survival – and are set out in international treaties such as the Geneva Conventions.
For example, Russia's repeat attacks on the Ukrainian energy grid over the winter have been described as war crimes because of the harm done to civilians. Russia insists it is hitting military targets only.
Moscow's troops have been accused by the international community of thousands of abuses since their full-scale invasion of the neighbouring country last February.
The prosecutor-general in Kyiv says more than 62,000 war crimes have so far been recorded, including the deaths of more than 450 children. The BBC has not been able to verify these figures.
Sir Geoffrey worked with International Criminal Tribunal for the Former Yugoslavia (ICTY) between 1998 and 2006.
He led the case against former Serbian leader Slobodan Milosevic, who went on trial in The Hague in 2002 for war crimes committed in Croatia, Bosnia and Kosovo.
Mr Milosevic – once known as the "butcher of the Balkans" – died in prison before the trial concluded.
Commenting on the war in Ukraine, Sir Geoffrey said the case "couldn't be clearer" against Mr Putin, and there was "no doubt" of a chain of command leading to the man in the Kremlin.
This meant the "most important thing" was to try the Russian leader himself, rather than low-ranking soldiers, he told Broadcasting House.
He added that any trial "could be tomorrow morning, as far as I'm concerned" and should be held by Ukrainians in the Ukrainian language. Mr Putin himself would not need to be present, he said.
Sir Geoffrey speculated over a possible reason why the Russian leader had not faced tougher action so far – suggesting there could be a move to exempt him from prosecution as part of a peace deal.
He said the International Criminal Court (ICC) – which has jurisdiction over Ukraine – "has still not made a pronouncement about Putin's responsibility for this crime".
Sir Geoffrey said this "reluctance" raised the question of whether there was some sort of "political advantage" to not indicting the president.
But he said the idea of any peace settlement that prevented a trial of Mr Putin was an "appalling prospect" which would be "a complete denial of justice to the people of Ukraine".
In response, the ICC rejected any assertion of "pressure or influence" on the prosecutor, Karim Khan, to delay any investigations.
Mr Khan had "gone on record repeatedly… to demonstrate that accountability is an imperative that must be achieved", an ICC statement said.
It added that the prosecutor had been working on the ground in Ukraine to collect evidence of war crimes – and arrest warrants would be issued when enough proof had been gathered.
Source: bbc.co.uk