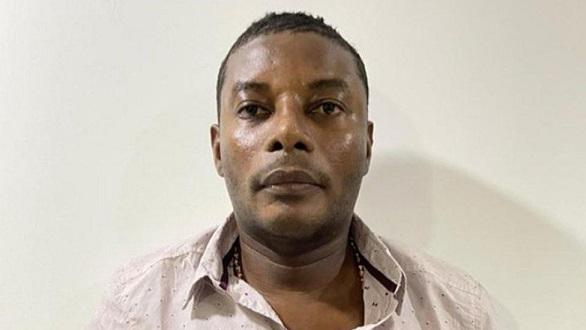 One of Colombia's most wanted fugitives has been killed by police, the country's president has announced.
Juan Castro, better known as Matamba, had escaped from La Picota maximum-security jail in the capital, Bogotá, in March.
CCTV footage showed him calmly walking out of his cell dressed in the uniform of a prison guard.
President Iván Duque said that Matamba had been "neutralised" in the city of Bolívar, in northern Colombia.
But he did not provide any more details about the police operation in which the fugitive gang leader was killed.
Matamba, who led an off-shoot of the Gulf Clan cartel, was expected to be extradited to the US on charges of drug trafficking.
He had been accused of running up to 20% of the cocaine shipments from Nariño province, in Colombia's south-west.
His gang, called Cordillera Sur, is thought to have paid off a number of high-ranking members of the Colombian military.
Those on the gang's payroll reportedly tipped the gang off about impending raids and in some cases targeted their rivals.
Matamba's disappearance from prison led some to speculate that he may have been killed in order to prevent him from revealing who in the military the gang had allegedly bribed.
Others argued that the nature of his escape suggested that a number of guards must have been in on his plan.
CCTV footage showed him calmly walking out through a door which had been left ajar.
🔴 En los videos se aprecia al poderoso narcotraficante salir por una reja que le deja abierta un inspector de apellido Jiménez ► https://t.co/66DoBnmIKk

📹: cortesía. pic.twitter.com/2iTgOgZYgQ

— EL TIEMPO (@ELTIEMPO) March 20, 2022
The prison's directors and more than 50 guards who were on shift at the time of his escape were suspended.
The officer suspected of giving him a guard's uniform and leaving a door open was arrested.
Source: bbc.co.uk