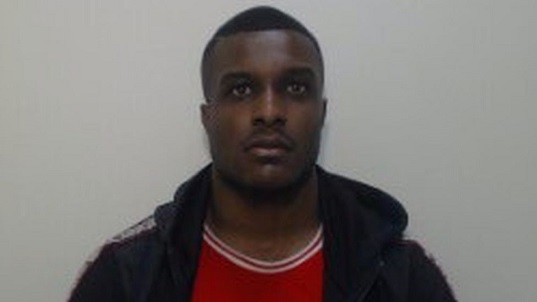 A footballer has been jailed for 24 years for "gruesome" sex attacks on six victims as young as seven.
Jonathan Diba-Musangu, 23, who used to be on Rochdale AFC's books, raped the seven-year-old girl in 2012.
The Crown Prosecution Service (CPS) also said he raped a 12-year-old girl at a summer camp four years later.
He was jailed at Manchester Minshull Street Crown Court for 12 offences including three counts of rape of a child under 13 and two counts of rape.
Diba-Musangu, of Fernhurst Street, Chadderton, was also convicted of two counts of sexually assaulting a child under 13, two counts of inciting a child to engage in sexual activity and three counts of sexual activity with a child.
Greater Manchester Police (GMP) said he met most of his victims through a church in Rochdale where he taught Sunday school and music classes.
He also worked in focus groups for young adults alongside his budding career as a footballer.
Diba-Musangu, a semi-professional goalkeeper for Rochdale AFC in the mid to late-2010s, was arrested in 2018 when he played for Mossley FC.
Det Insp Julie Maxwell, of GMP, said: "It's taken immense bravery for these victims to come forward and cooperate with us as we pieced together his gruesome acts.
"Diba-Musangu abused his position of power within the church and may well have had a successful footballing career ahead of him before the work of detectives have led to where he is now – behind bars."
An NSPCC spokesperson said: "The victims in this case have lived with the devastating impact of being abused as young girls by Diba-Musangu. "
Source: bbc.co.uk