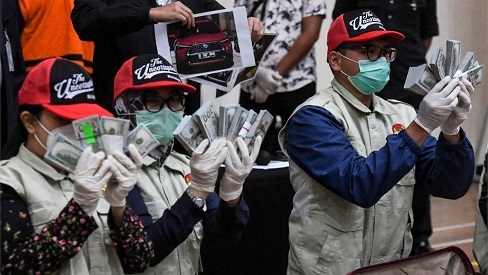 Indonesia's social affairs minister has been accused of taking bribes while arranging food aid for people affected by the coronavirus pandemic.
Juliari Batubara is accused of taking cash from contractors supplying food aid parcels to people in need.
Anti-corruption agents discovered more than 14.5 billion rupiah ($1m; £760,000) stuffed into suitcases and other containers, and arrested four suspects during a raid on Saturday.
Mr Juliari turned himself in on Sunday.
"The money was stored in seven suitcases, three backpacks, and in envelopes," Firli Bahuri, chief of the Corruption Eradication Commission said in a news conference.
Agents said Mr Juliari was allegedly offered 10,000 rupiah ($0.71; £0.53) in kickbacks per food parcel provided by two of the contractors, according to AFP news agency.
If found guilty, he could face up to 20 years in prison and a fine of one billion rupiah.
Mr Firli said two of the suspects arrested were officials and the remaining two were private citizens.
President Joko Widodo said on Sunday that he had repeatedly warned ministers to avoid corruption and that he would not protect those who did.
"That's the people's money… it's aid urgently needed to help during Covid-19 and for the economic recovery," he said.
Indonesia, which relies heavily on tourism, has been hit hard by the pandemic. The government has rolled out aid programmes such as food packages to help those in need.